Local police were able to locate a 70-year-old Fairfield woman who wandered away from her home in the southeast part of town Monday morning.  With rain falling and temperatures in the upper 30's, the woman was dressed in very light clothing. She was found in the FS lot south of the railroad tracks and taken to Fairfield Memorial Hospital for treatment of exposure.
A bridge that carries I-64 over I-57 at Mt. Vernon was closed for three hours Monday when a semi crashed on the bridge and overturned against a bridge support.  Edwin Nafziger of Archbold, Ohio was taken to a local hospital for treatment of his injuries.  Debris from the wreck fell onto a car that was traveling southbound on I-57.
Authorities have released the identification of the four people killed New Year's Eve when their airplane crashed near Vienna. The dead are 34-year-old Curt Terpstra, 37-year-old Krista Green, 35-year-old Jordan Linder and his 26-year-old sister, Jasmine Linder. All were from Iowa.
The 33rd annual Wayne County Corn Growers Seminar is set for this Friday at the Ruritan building in Geff. Registration starts at 8:30 with coffee and donuts. Matt Bennett of Bennett Consulting will provide the annual market outlook.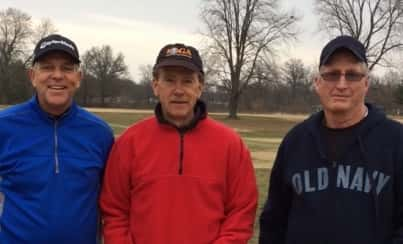 Twenty-three golfers participated in the Rick Book Memorial Scramble at the Fairfield Public Golf Course on New Year's Day.  Joe Mitchell, Doug Musgrave, and Clint Puckett combined for a six under par to win the championship. Bill Book won the closest the pin prize.    Great fun was had by all while teeing up 2017 at Fairfield Public Golf Course under mild weather conditions.  Pictured are the winning team members from left to right: Joe Mitchell, Doug Musgrave, and Clint Puckett.