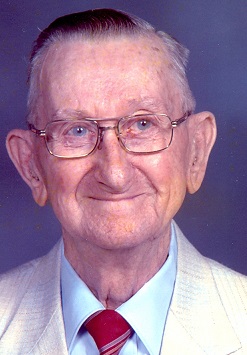 Vernon William Clodfelter, age 100 of West Salem died on February 12, 2017 at Rest Haven Manor in Albion, IL. As a young man, Vernon was a dairy farmer for several years in Gibson City, IL as well as working for a local farmer, Claude Wiseman. Later he worked for the State of Illinois on the Highway Department and in 1961 went to work at Champion Laboratories.  Vernon retired in 1979.  He was also a member of the Zion United Methodist Church in West Salem.
Vernon is survived by his daughter, Linda (Charles) Newton of West Salem, his son, Don (Margaret) Clodfelter of Nakomis, FL, four grandchildren:  Susan (Nick) Guidice, Greg (Jennifer) Clodfelter, Dustin (Kindra) Newton and Tonya Newton, and five great grandchildren.
Visitation will be held from 1PM to 2PM on Thursday, February 16, 2017 at the Zion United Methodist Church in West Salem.
Funeral will be held at 2PM at the church with burial to follow at the Moravian Cemetery in West Salem.
Memorial contributions are encouraged by the family to be given to the Zion United Methodist Church and will be accepted at the church or at the Ingram Funeral Home of West Salem, which is in charge of all the arrangements.