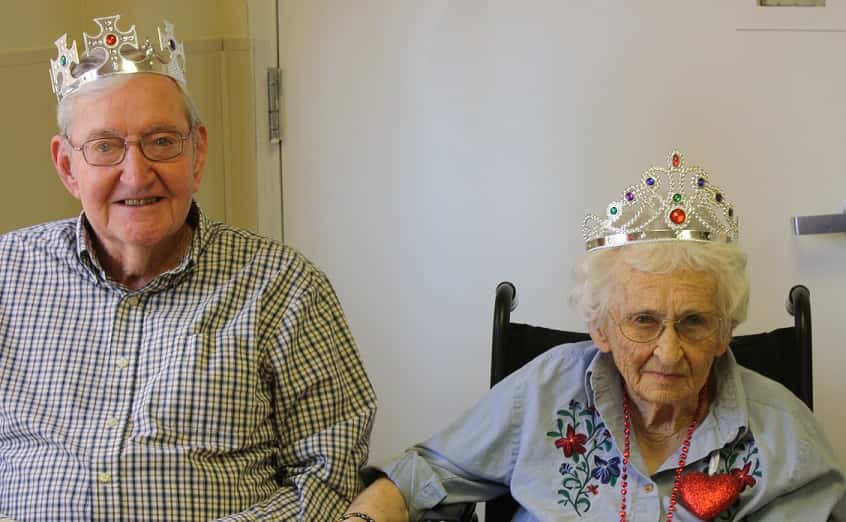 Fairfield Memorial Hospital's Skilled Care Unit held a Valentine Party and Coronation for the residents Tuesday afternoon, February 14.  The residents enjoyed special valentine treats with their guests.  A coronation event was held and the "2017 Skilled Care Unit Valentine King and Queen" were named.  Cecil Ellis was the King at Way Fair  and Vera Ellis the queen.
Winners have been announced in a couple WOKZ ticket giveaways.  Morgan Webber won tickets to the Lee Brice, Justin Moore concert at the Ford Center in Evansville on April 21st.  Melissa Rutger is the winner of the tickets to the Faith Hill, Tim McGraw concert which is at the Bankers Fieldhouse in Indianapolis on April 29th.  Congratulations to our winners.
Three local men face various charges related to a fight that took place Friday in Fairfield.  Michael Keyser was charged with Unlawful Restraint , Michael Dirden was charged with Unlawful Restraint and Posesion of a controlled substance for a pipe with residue found on his person at the time of booking.  Jamie Church was charged with Unlawful Restraint, Battery and Kidnapping.  Church offered a ride to 19-year-old David R Hudgens Jr then allegedly struck him in the face, then took him to residence on Water street and threatened him again.  Hudgens eventually escaped and did not require medical attention.
47-year-old Darin Morgan, 23-year-old Brittany Cochran of Fairfield Estates 1 lot 4 have been arrested for Intent to deliver Methamphetamine after an early Friday morning raid at their home.  Police knocked and announced their presence and when they got no answer the used a battering ram to gain entry.  Inside a dietary supplement container police found a small baggie with approximately 3.5 grams of suspected Crystal Methamphetamine and $276 cash and a number of prescription pills.  Morgan and Cochrane were arrested and taken to the Wayne County Jail.  A juvenile in the home was turned over to DCFs.
The White County Sheriff's office is warning area residents about public scam.  A resident had a US Postal Money Order sent to them in the amount of $400.  The money order was made payable to the resident, but the resident didn't know the name of the person who had purchased the money order.  The resident was then contacted and ask to send the money order to another address.  Police were advised that this is a money laundering scam, and are asking anyone who receives these money orders to not cash them and notify local authorities.
White County Sheriff Doug Maier was notified last week of a stolen firearm from White county turned up in Florida.  Panama City Florida Police reported they had recovered a Phoenix Arms 22 caliber revolver, but that no suspects or arrests have been made in connection with the firearm.   The gun was reported missing from the Larry Gunter residence in Norris City on September 26 of 2011.  The Panama City police will ship the firearm to the White County Sheriff's office.