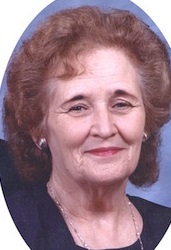 Mary E. Breeden, 85, of Broughton, Illinois, passed away Tuesday, February 14, 2017 at the Eldorado Rehab and Health Care.
A retired farmer, she is survived by one son; David (Theresa) Breeden of Bloomington, MN, and three grandchildren; Audrey Breeden of St. Louis, MO, and Jessica and Patrick Breeden, both of Broughton, IL.
A graveside service for Mary Breeden will be held Friday, February 17, 2017 at 10:00 a.m. at the I.O.O.F Cemetery in Norris City, IL with the Rev. David Cochran officiating.
Those attending the service are asked to meet at the cemetery. There will be a lunch immediately following the service at the United Methodist Church in Norris City for family and friends.
The Gholson Funeral Home of McLeansboro is in charge of arrangements.