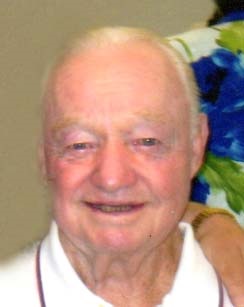 William Rodney "Bill" Collard, 87, of Carmi, Illinois, died Monday, February 13, 2017, at Hamilton Memorial Hospital in McLeansboro.
Bill attended the Presbyterian Church in Carmi and he was a Korean War Air Force Veteran.  He was an active member of the American Legion.  Bill was very athletic in high school and excelled in football, basketball and track. He is a member of the Carmi Township High School Sports Hall of Fame.  During his work career he was a sheet metal worker and worked in the oilfields of the Illinois Oil Basin.  He was also owner/trainer of standard bred race horses.
Survivors include son Rodney (Tamara) Collard of Murphysboro, Illinois; daughter Jane (Bob) Sykes of Carmi; grandchildren Lindsey (Adam) Moore, Morgan (John) Rathjen, Ryan (Kerri) Sykes, Lesley (Nick) Knight; great grandchildren Deacon Rathjen, Gavin Sykes, Adison Sykes, Patrick Knight, Gehrig Knight, Grace Knight, Abbey Knight, Clara Knight.
Visitation and funeral are Saturday, February 18, 2017, at Cook Funeral Chapel in Carmi.
Visitation is at 11 am and continues until funeral time at 1 pm.  Burial with military rites is in Enfield Cemetery in Enfield, Illinois. The Cook Chapel of Carmi is in charge of all the arrangements.