Illinois State Police District 19 Commander, Captain Cory Ristvedt, has announced the results of a Nighttime Enforcement patrol in Wayne County during March. The NITE patrol allowed the ISP to focus on preventing, detecting, and taking enforcement action in response to impaired driving and occupant restraint violations, especially between the hours of 9 p.m. and 6 a.m. There were 11 total citations/arrests and 28 written warnings.
Kindergarten registration for the Johnsonville School will be held on Wednesday, March 22, from 3 p.m. to 5 p.m. This registration is for all students who will be entering kindergarten in the fall at Johnsonville School. The registration will consist of processing paperwork and touring the kindergarten classroom. The school nurse will also be available to talk to parents. In order to cut down on waiting time, call 673-3044 to make an appointment to register your child for kindergarten.
The status hearing for Richland County murder suspect Glenn Ramey has been backed up once again. The newly scheduled hearing will be in April.  The 53-year-old Ramey is facing a First-Degree Murder charge and a charge of Predatory Criminal Sexual Assault.  He is charged in the Thanksgiving Eve 2016 death of 8-year-old Sabrina Stauffenberg in Olney.  Ramey is currently being evaluated as to his fitness to stand trial.  He remains in Richland County Jail, in Olney, under $10 million bond.
The Fairfield Community High School Mulebackers are hosting their mattress sales event today in the FCHS Gym from 1-6 p.m. If you are interested in shopping locally, the folks at Rush Appliance will once again be making a $100 donation to the Mulebackers for each mattress they sell during the month of March.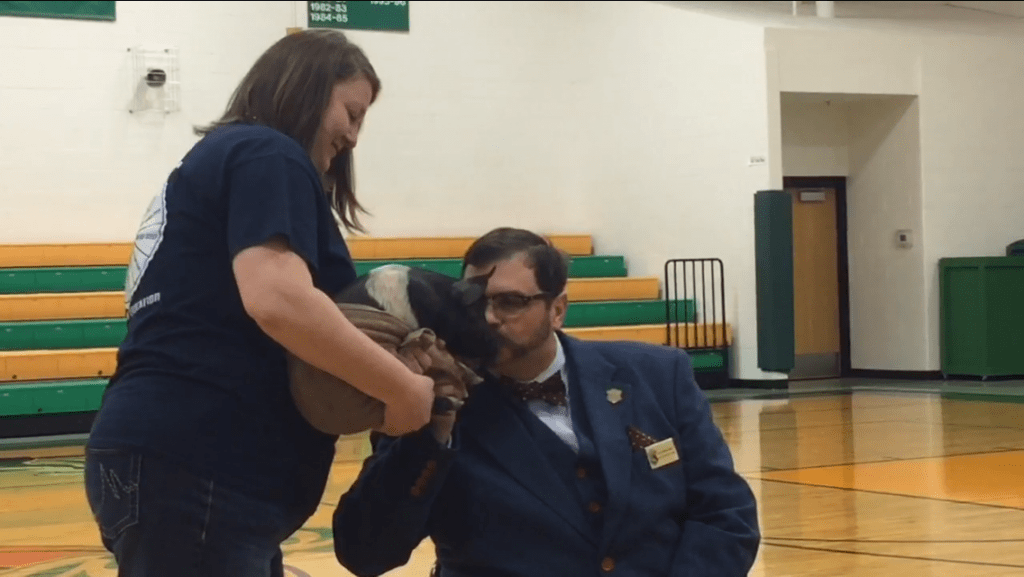 Jasper School Principal David Mills kissed a pig at the school Friday, after students raised over $3,000 in Jump Rope for Heart. Resource Teacher Jennifer Sampson brought the pig and PE Teacher Misty Ellis coordinated the Jump Rope for Heart.
University of Illinois Director of Athletics, Josh Whitman, has announced Brad Underwood has been hired as the Illini Men's Basketball Coach. Underwood came from Oklahoma State where he led the Cowboys to the NCAA Tournament this year, and previously coached the Stephen F. Austin Lumberjacks for three years. Whitman confirmed the hire Saturday afternoon.