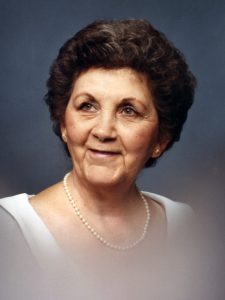 90 year-old Ida Mae Lawrence of Xenia, Illinois died Friday, March 17, 2017, at Flora Rehabilitation and Health Care Center. She attended Xenia United Methodist Church, and had worked at Xenia Manufacturing.
She is survived by 2 sons: Dewayne (Linda) Lawrence and Jesse R. "J.R." (Pam) Lawrence; 2 sons-in-law: Dr. Keith Blair and Dwight (Betty) Edgington; and grandchildren, great-grandchildren, and a great-great-grandchild: Timothy Lawrence; Dwight D. (Lisa) Edgington and daughters Amber, Ashli, and Destiny Leslie and her daughter Sophie Leslie; Melissa (Kevin) Dick; Matthew Lawrence and daughter Mya Lawrence; Jennifer (Dave) Link and son Tyler Link; Heather (Travis) Tucker and daughter Georgia Tucker; Daniel (Theresa) Edgington and daughters Madyson Slover and Grace Edgington; Dustin (Andrea) Edgington and son Mason Rinehart and daughter Anna Edgington; Carrie Paul; Nichole Stanford; Justin Lawrence; Krista Blair; Angela Lawrence and daughter Marley Lawrence; and Jamie Lawrence.  She was also survived by many nieces and nephews.
A funeral service celebrating the life of Ida Mae Lawrence will be 11 a.m. Tuesday, March 21, 2017, at Frank & Bright Funeral Home in Flora.  Interment will follow in Odd Fellows Cemetery, Xenia.  Visitation will be from 4-8 p.m. Monday at the funeral home, and from 10 a.m. until the hour of service on Tuesday.  Memorials are suggested to the Alzheimer's Association or Odd Fellows Cemetery and will be accepted through the funeral home.