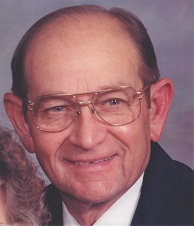 86-year-old Fairfield resident, Elwood Freeman, died at 10:42am Saturday, March 18, 2017 at Fairfield Memorial Hospital. He had worked in the oilfield for many years and after retirement, mowed lawns.
He is survived by his wife Rosemary, one daughter Sandra Goldman of Fairfield, two grandchildren, four great-grandchildren, and one sister Carolyn Garris of New Harmony, Indiana. He was preceded in death by his parents, one son Thomas Freeman and one brother Ralph Freeman, Jr.
Services for Elwood Freeman will be at 12pm Thursday, March 23, 2017 at the Johnson and Vaughn Funeral Home in Fairfield with burial to follow in the Mt. Pleasant Cemetery in Griffin, Indiana.
Visitation will be from 10am until the time of service at the funeral home.  Memorials can be made to the North Side Baptist Church and will be accepted at the Johnson and Vaughn Funeral Home which is in charge of all of the arrangements.