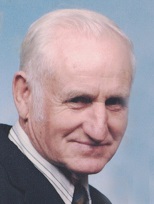 Francis C. Duncan, 91, of Grayville, Illinois, died Sunday, March 19, 2017, at Meadowood Nursing Home in Grayville. Francis was a farmer and U.S. Army World War II veteran.  He was a member of the First Christian Church in Grayville.
Survivors include sons Larry (Linda) Duncan of Albion, Illinois, Ronald (Soiux Kindel) Duncan of Grayville; son-in-law Danny Shoulders; sister Edith Spurgeon; sister-in-law Helen Hortin; grandchildren Doug Duncan, Francie Ellis, Jackie Free, Lesa Shilling, Jake Duncan, Tim Shoulders, Emily Shoulders, Ashley Duncan; 20 great grandchildren; two nephews, and four nieces.
Funeral services for Francis C. Duncan will be 11 a.m. Friday, March 24 at the Cook Chapel in Grayville with burial and full military rite s at the Moravian Cemetery in West Salem.
Visitation will be 9 am until the time of service on Friday, March 24 at the Cook Chapel in Grayville.
Memorials may be made to the Grayville VFW and will be accepted at Cook Funeral Chapel in Grayville.