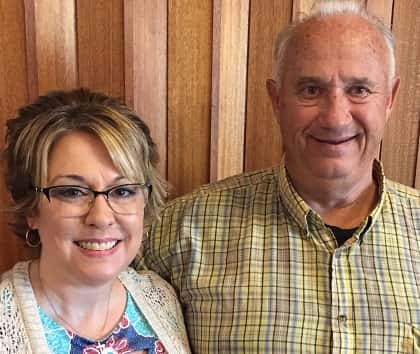 At Thursday's meeting of the Fairfield Rotary Cub, Rotarians heard about the services of the Clay County Health Department Hospice.  Speaking to the club were Carol Anne Greenwood, RN and liaison for the Fairfield/Wayne County area for their hospice program, and Jan Nattier, RN, Hospice Coordinator.  CCHD Hospice not only serves those in Clay County, but also in the counties of Edwards, Effingham, Jasper, Marion, Richland, Wabash, and Wayne.  The ladies explained that hospice care provides medically managed pain and symptom control in the patient's home or nursing home, pays for all medications that are related to the terminal illness, and helps relieve the financial stress on a family by paying for equipment and supplies.  24 hour on-call service is also provided. Thursday's program was arranged by Rotarian Mike Sullivan. Pictured above are Mike Sullivan and Carol Anne Greenwood, RN.
Fire heavily damaged the home of Edwards County Sheriff's Deputy Travis Roosevelt on S. Fourth Street in Albion. Heavy smoke and flames were showing when the fire department arrived Wednesday evening.  The Roosevelt family lost most of their belongings in the fire.
Plans have been announced for the 53rd annual dinner and homecoming of the Fairfield Community High School Alumni Association. The event has been set for Saturday, October 7 at 5 p.m. at the Community of Christ Family Life Center.  The featured speaker for this year's event will be Don Taylor of Port Richmond, California.
If you have had a bicycle stolen in the past year or two, police would like you to come to the Fairfield City Police Department to see if you can identify your missing bike.  You are asked to call the police department before showing up to review the bikes.
The Cisne Reunion will feature plenty of fun and music this evening from 6 – 10 p.m.  Heather and Marty will perform at 7 this evening.  A tractor show and the Clay County Cruisers Car Show will be featured Saturday, along with the annual parade at 2:30 p.m. A community breakfast will be featured from 7-10 a.m.