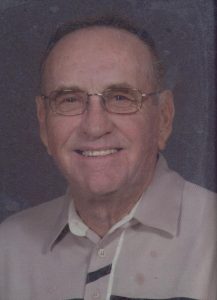 Charles Dee King, 83, of Albion, IL died August 11, 2017 at Deaconess Hospital in Evansville, IN. Charles was the son of Ernest King and Jennie (Collins) King and was born on August 25, 1933. He married Clara Ann Wiseman on December 31, 1953 at the Zion E.U.B. Church in West Salem, IL. Charles served in the U.S. Army Field Artillery from July 22, 1953 to April 22, 1955. He was in the Army Reserves from April 22, 1955 to July 31, 1961. Charles loved farming where he spent most of his life. He served on the Edwards County Fair Board, Extension Council, Soil Conservation Board, FHA Committee, and the Ellery Water Corporation Board. Charles was also a Gideon for several years. After a dry summer on the farm, Charles worked as a Deputy Sheriff during the following winter. Charles spent many years teaching Sunday School classes for the high school youth and young adults. His greatest joy was the Greenlite class at the Zion E.U.B. Church at West Salem. He loved them all.
Charles is survived by his wife Clara, of 63 years; two sons and their wives: Billy (Cathy) and Michael (Diane); and three daughters and their husbands: Judy (Robert Mosher), Janet (Randy Hanson), and Jane (Tony Jones); along with his daughter-in-law Janet (Mervin Schuh). Charles and Clara have 13 grandchildren: David, Diane, William, Daniel, Megan, Carl, Gary, Melinda, Kiva, Serena, Brian, Scott, and Bradley; and 12 great-grandchildren: Evan, Maria, Isaac, Lily, Peter, Emmit, Callan, Rolland, Miles, Brenna, Sara Mae, and Abigail. He is also survived by a niece, Geneva Stroughmatt.
His oldest son, Rev. Stephen King, preceded him in death on November 24, 2014. Charles was also preceded in death by his parents, Ernest and Jennie, and two brothers: Calvin and Levi.
Visitation will be held on Sunday, August 13, 2017 from 1PM to 3PM at House of Prayer in Albion, IL.
A Celebration of a Life Well-Lived will take place at 3PM at the church, with burial following at Graceland Cemetery, Albion with full military honors.
Memorials may be made to the Gideons International or the House of Prayer in Albion.Fond memories and online condolences may be shared with the family at www.ingramfh.net. Ingram Funeral Home of Albion is honored to be entrusted with the arrangements.