The Fairfield City Council approved a motion for an eight percent utility rate increase for water, natural gas, electricity and sewer services, along with a water meter charge for all residences and commercial buildings receiving water from the City at $10.20. The utility rate increase was motioned by Alderman Jim Griffith and seconded by Ralph Barbre. David Simpson was the only one to vote "no". The increase will be reflected in the November 1, 2017 bill. Mayor Brent Maguire stated the City is losing $120,000 to $130,000 a month, as the City is still looking at ways to increase cash revenue, help build reserves and cut down on expenses.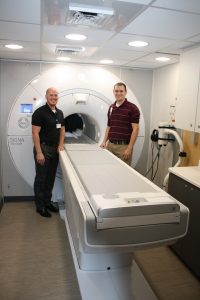 Fairfield Memorial Hospital announced the purchase of a new MRI unit.  The new mobile unit a GE SIGNA Voyager MRI, is 75% more energy efficient than the previous model.  The new unit features a wide Comfort Plus table with low height and open 70cm design.  It also features faster scan times and the latest software available from GE.
Pictured are Cody Allen, R.T. (R)(MR), MRI Technologist with Associates in Medical Imaging* and Devin Deisher, B.S., RT(R)(CT)(MR), FMH Director of Diagnostic Imaging with the new GE SIGNA Voyager MRI at Fairfield Memorial Hospital.
Warm temperatures aided harvest across the state. There were 5.4 days suitable for fieldwork during the week ending October 8.  Topsoil moisture supply was rated at 24 percent very short, 37 percent short, and 39 percent adequate. Subsoil moisture supply was rated at 27 percent very short, 40 percent short and 33 percent adequate.  Corn mature was at 90 percent, compared to 99 percent last year. Corn harvest was 38 percent complete, compared to 52 percent for the 5-year average.  Soybeans coloring was at 96 percent, compared to 97 percent for the 5-year average. Soybean harvest was 52 percent complete, compared to 36 percent last year.
Saturday afternoon, Carmi Police took a theft report from Christopher Ramsey, who told officers that sometime between Thursday and Saturday that someone stole a bicycle from his residence on 5th Street.  Monday afternoon, Sandra Browning reported to Carmi Police that sometime between 9:30 pm Sunday, and 10 am Monday, someone stole a Little Tykes playhouse from the yard of her residence on 7th Street.
The Edwards County Soil and Water Conservation District is now taking orders for fish.  Fish will be delivered Thursday November 2nd at the district office.  Orders for Grass Carp need to be made before October 23rd.  If you need fish for your pond you can call the office at 445-3615 on Mondays and Tuesdays between 8am and 4:30 pm.
$700 in cash will be awarded at ARF's HOWLoween Hairball on Saturday, October 28th!  "Yappy" Hour with Matt Kinney's smoked pork burger sandwiches and finger foods will start at 7pm at the Fairfield Elks Lodge.   Torn & Frayed, a Wayne City based rock band, will return for their 15th Hairball performance.  Hairball prizes will be awarded to:  Hairiest, Scariest, Funniest, Sexiest, Best Couple & Farthest Traveled.  Tickets are $20 in advance and are available at Country Roads Realty or by calling call 842-5584.
Fairfield's First Christian Church will host its Big Lunch on Saturday, October 14, with serving from 11 a.m. to 1 p.m.  The menu will include ham and beans, cornbread, broccoli salad, and apple crisp.  As always, lunch is free, and all are welcome.  Guests are asked to use the doors on the west side of the building.