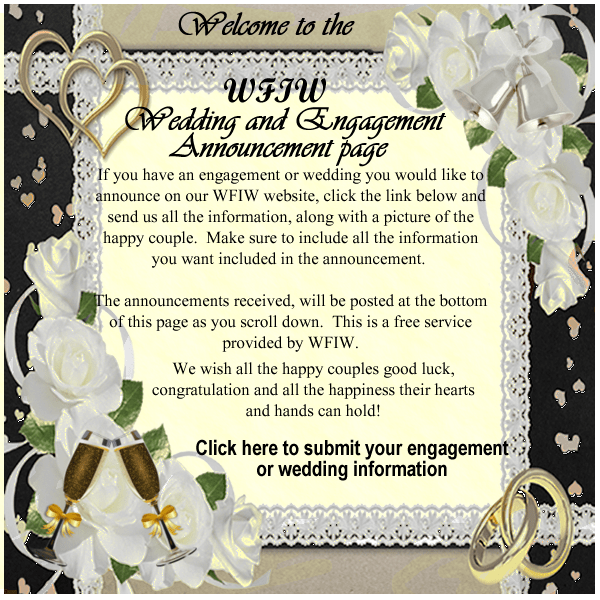 Buddy and Lynn Cline of Fairfield are pleased to announce the engagement & upcoming wedding of their daughter, Jennifer LeAnn to Tristan Roger son of Wesley and Robin Johnson of Fairfield. Jennifer is employed by Community Care Systems of Fairfield and Tristan is employed by North American Lighting in Flora.  The couple will reside in the Merriam, IL area.  The wedding will take place on Saturday, October 22, 2016 at 10:30am at The Canaan Bridge Church just west of Fairfield. All family and friends are welcome to attend.  There will be a reception following the ceremony.
Brad and Denise Schroeder of Grayville are pleased to announce the engagement of their daughter, Kayla Schroeder to Steven DeStefano, son of Tony and Diane DeStefano of Mt. Carmel.  Kayla, a graduate of the University of Southern Indiana with a Master's Degree in education is a teacher at the Norris City-Omaha-Enfield High School in Norris City, Illinois.  Steve is pastor of the Free Methodist Church in Cowling, Illinois, as well as a custom applicator for Wabash Valley Service Company.  A June wedding is planned and formal invitations will be mailed.
_________________________________________________________________________________________
Andrew Williams to marry Julie Pfeifer on November 12th, 2016.
Celebrations are to occur near the hometown of the bride in Kinsman, IL.
 The groom is a 2007 graduate of Mt. Carmel High School in Mt. Carmel, IL, and a 2011 graduate of McKendree University in Lebanon, IL with a Bachelor of Business Adminstration in Economics and Finance. He is the son of Kevin Williams of Mt. Carmel, IL and Teresa and Kenny Saxe of Mt. Carmel, IL.
 The bride is a 2009 graduate of Gardner- South Wilmington High School in Gardner, IL, and a 2013 graduate of Saint Louis University in St. Louis, MO with a Bachelor of Science in Exercise Science and a Minor in Education. She is the daughter of Donald and Mary Pfeifer of Gardner, IL. The couple resides in Fairfield, IL where the bride is a Parent Educator at the Wayne County Family Enrichment Program and the groom is a Financial Advisor with Edward Jones, and the FCHS Golf Coach.