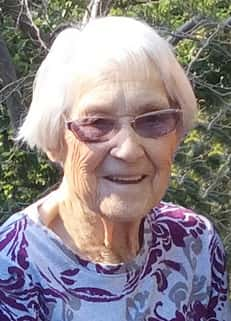 Lucille Marie Sork died Sunday morning, August 2, 2015. A member of St. Edwards Catholic Church, she was a member of the Wayne County Home Extension, a past 4-H Club Leader She had worked for Illinois Glass Company in Alton, Illinois
Survivors include sisters, Rita Wyatt of Godfrey, IL and Rose Arthur of Merrimack, NH; a brother, John and wife Florence Horman of Quincy, IL, and a sister-in-law Dorothy Horman of Arlington, KY; children, Earnest Sork and special friend Nori Nessa of Fairfield, Mary Lou Gwaltney and husband Vernon of Fairfield, Cinda Smith and husband Greg of Stewardson ,IL, and Michael Sork and wife Sally of Tampa, Florida; ten grandchildren, sixteen great-grandchildren and four step great-grandchildren.
A funeral mass for Lucille Marie Sork will be held at 10 AM Wednesday, August 5, 2015 at St. Edward Catholic Church in Fairfield.
Visitation will be held on Tuesday from 6-8 PM at the Church, with a Rosary service at 8 PM. Burial will be in Koontz Cemetery.
Memorials may be given to St. Edwards Catholic Church of Fairfield.