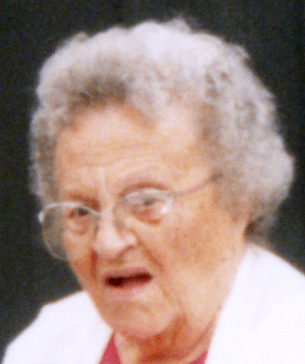 Vera Mae Ellis, age 96, a resident of Mt. Vernon, IL passed away at 11:50 am Tuesday, August 4th, 2015 at Countryside Manor in Mt. Vernon, IL.
She is survived by a daughter in law Pat Ellis of Mt. Vernon, IL; a granddaughter in law Lisa Ellis of Mt. Vernon, IL; 2 great grandchildren: Anna and Kaili Ellis, both of Mt. Vernon and also several cousins.
Graveside funeral services for Vera Mae Ellis will be held at 1:30 p.m. Friday, August 7th, 2015 at Garrison Temple Cemetery near Keenes, IL with Rev. Richard McCormick officiating.
Visitation will be held from 12:00 noon on Friday until the time of service – 1:30 p.m. – at the Richardson Funeral Home in Wayne City, IL which is in charge of all the arrangements.