The band Rollin Country will perform tonight at the Cisne Reunion. The band will be performing from 6 – 10. A teen tailgate party has been set for 8 – 10. The annual Cisne Reunion parade will be at 2:30 Saturday. The Duke Boys will perform Saturday night at 6 p.m.
At the White County Fair in Carmi, Motocross action starts at 7 this evening. On Saturday, the Young Leaders Pedal Pull has been set for 3:30. A giant Demo Derby will cap off the White County Fair at 7 p.m. Grandstand admission is $10.
The state of Illinois plans to close the World Shooting and Recreation Complex in Sparta by the end of the month. Officials with Governor Bruce Rauner's office say the complex costs $3 million a year to run but only brings in $1.1 million in revenues. The complex will close after the Grand American World Traphooting Tournament ends next week.
More arrests are expected as Carmi police investigate a stabbing incident last Sunday at Bradshaw Park in Carmi. 21-year-old Jacob A. Holland has been formally charged in the case. Chief Jason Carter says more arrests are likely.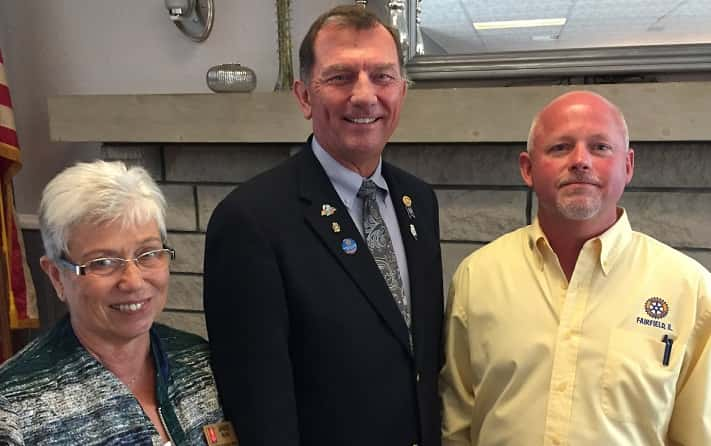 Rotary District Governor Tom Guebert was the guest speaker at the Fairfield Rotary Club meeting Thursday. Guebert outlined his goals for the district which include increasing membership to 1,650. Guebert also wants to continue supporting the National Children's Cancer Society and the Polio Plus program. Pictured left to right are Janice Alka, Tom Guebert, and Fairfield Rotary President Tim McBride.