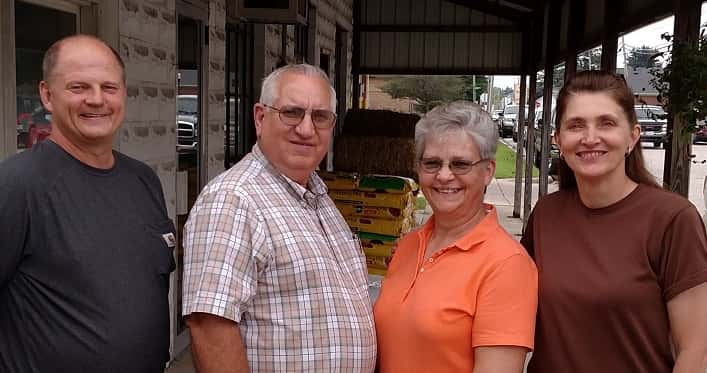 After 25 years of continuous service on Southeast Second Street in Fairfield, Howard & Beverly Tanner have sold their business, Fairfield Produce, to Don & Cindy Grimes of Fairfield. The Grimes's plan to retain the same name of the business, Fairfield Produce, as well as to continue and maintain the same high level of quality products and service for which the Tanners are known. The transaction closed this morning August 10th and the Grimes took over operation of the business this morning. Howard & Beverly wish to thank all their loyal customers for their patronage over the years and hope you will continue to show your loyalty to the new owners at Fairfield Produce. Howard & Beverly are looking forward to a retirement of leisure, travel, and of course, gardening.  Pictured above (left to right) Don Grimes, Howard Tanner, Beverly Tanner and Cindy Grimes.
Three Fairfield men have been arrested and police are searching for a fourth suspect involved in an alleged home invasion early Sunday morning in Albion. William M. Weccelle, 27, Kyle D. Moore, 29 and Donald A. Sims, 38 are accused of forcing their way into the Kenny Bryant home on Connie Drive in Albion. Edwards County State's Attorney Michael Valentine says an arrest warrant will be sought for the fourth suspect.
Area dentist, Dr. Walter Dawkins is returning to Fairfield. Dr. Dawkins operated a practice on Main Street in downtown Fairfield for many years. He is moving his practice into the former Dr. E.G. Dickey offices at 102 E. Main Street. Dr. Dawkins says he hopes to have his practice re-established by early next month.
A contractor working for an area home supply store was fatally shocked Friday at a home in Concord. 23-year-old Jetzari Gonzales died when the ladder he was using to access a roof came in contact with high-voltage power lines. A co-worker, Hector Gonzales, 21 was seriously injured and airlifted to a hospital in Evansville.
30-year-old William G. Tison of Eldorado died Sunday morning after being struck by a pickup truck while he was walking on a rural Hamilton County road. Tison was struck by 45-year-old Tony S. Dugaro of Eldorado.
Enterprise Road about four miles north of Fairfield will be closed to traffic today. Workers are replacing a bridge over Martin Creek.
Kane Smith of McLeansboro took first place in the Marion County Fair Demolition Derby Friday night. He claimed the top prize of o$1,400.