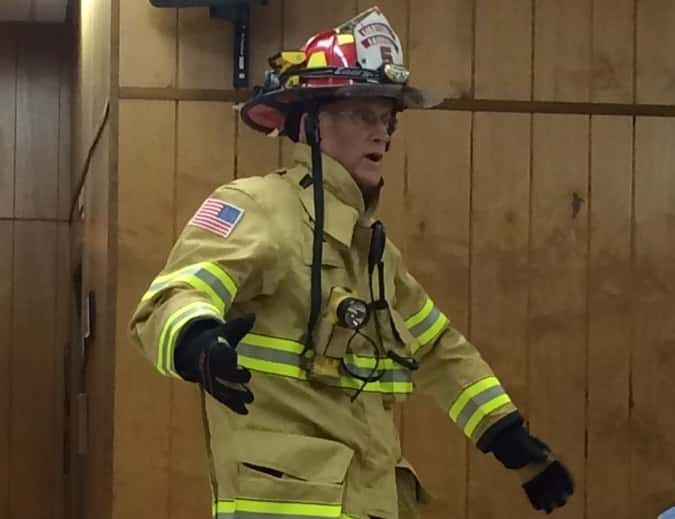 Veteran Fairfield firefighter Ron Gain showed off a new set of firefighting gear during Tuesday night's meeting of the Fairfield City Council. Earlier this year, the council approved buying ten sets of turnout gear for firemen, including thirteen new helmets. Old turnout gear that is still serviceable will be passed down to other firemen who are not assigned to inside firefighting duties.
21-year-old Zachary R. Wheeler of Fairfield has been indicted by a federal grand jury on five counts of production of child pornography. Following a detention hearing this week, Wheeler was ordered held without bond pending trial. Franklin County Sheriff's officials investigated the case against Wheeler.
A fourth suspect has been formally charged in an August 7 home invasion in Albion. 36-year-old Nathan McGowan of rural Fairfield has been charged with home invasion – a Class-X felony. William M. Wecelle of Wayne City has also been charged with home invasion. Two other suspects, Kyle D. Moore and Donald A. Sims of Fairfield have been charged with attempted home invasion – a Class-1 felony.
Black mold has been detected at the Fairfield Fire Department building on N.W. 7th street. The City Council has approved hiring S.I. Insulation to remediate the problem and install two inches of foam insulation to correct the problem. The cost was put at $29,975.
A major change in traffic flow around Fairfield Community High School is expected to be approved at the next city council meeting. Officials want to make Second and Third Streets between King and Center Streets one-way. Third Street would be one-way to the north with Second Street one-way to the south.
58-year-old Eddie L. Mercer of Carmi has been sentenced to 30 months in prison after pleading guilty to a felony charge of unlawful delivery of a controlled substance. Mercer was arrested as part of the White County Sheriff's Department "Operation Whiteout".