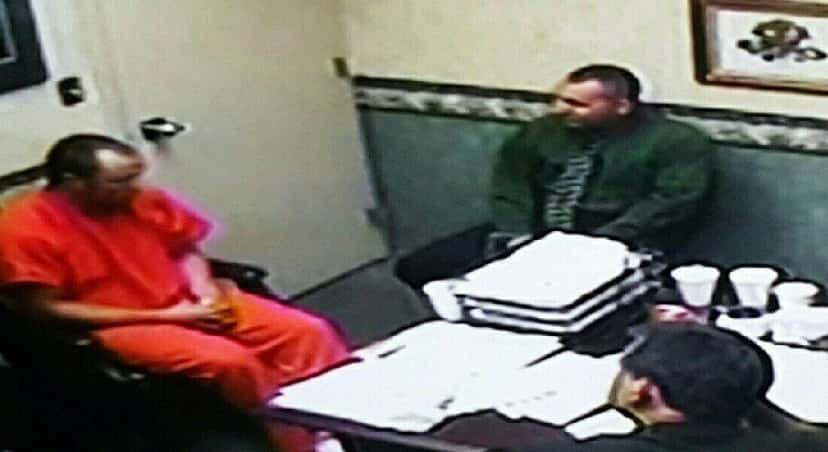 The horrific murder of a young White County couple in 2012 was featured Thursday evening on the Discovery ID Channel's series entitled Nightmare Next Door. The episode – entitled Into the Woods – detailed the slaying of 23-year-old Jake Wheeler of Centerville and his girlfriend, 17-year-old Jessi Evans of Norris City. The man convicted of the killings, 39-year-old Danny K. Coston of Centerville is currently serving a 53 year prison sentence for the shooting deaths. Coston avoided a jury trial in August of 2013 by opting for a stipulated bench trial before Judge Thomas Foster. Pictured above is a screen shot of the show that aired Thursday night. The video depicts Danny Coston (in the orange jump suit) being interviewed by Illinois State Police Detective Rick White and Sheriff Doug Maier (with his back to the camera). The interview led to Coston confessing to the double homicide.
A Chicago man has entered a guilty plea to charges he mailed a series of bomb threats to officials and students at Southern Illinois University in Carbondale. Derrick Dawon Burns, 22 will be sentenced December 8 in U.S. District Court at Benton. He faces up to ten years in federal prison.
At Thursday's meeting of the Fairfield Community High School Board, members accepted the resignation of Marty Slover and Jeremy Ellis as girl's softball coaches. The board also approved a tentative budget for the FY 16 school year.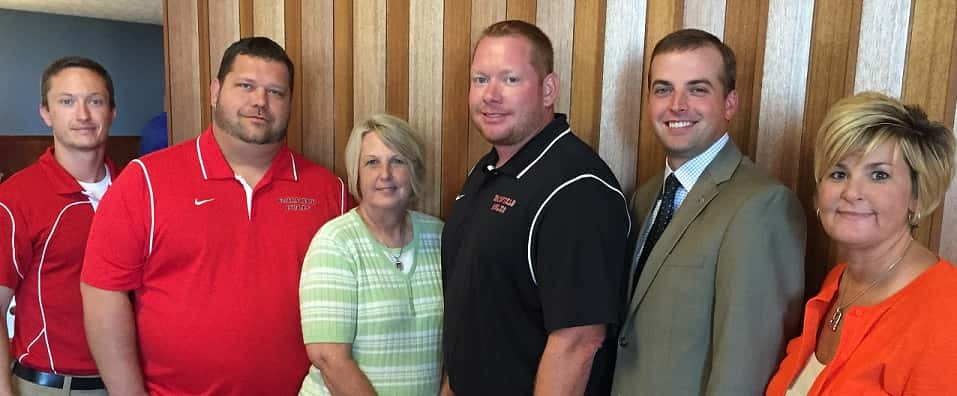 Fairfield Rotarians heard from the FCHS fall sports coaches at their noon luncheon meeting Thursday. Addressing the club were Jane Best, tennis coach, Justin Sanders, cross country, Chet Snyder, volleyball, Andrew Williams golf and Justin Townsend, football. (Pictured l-r are Justin Sanders, Chet Snyder, Jane Best, Justin Townsend, Andrew Williams, and Jill Fulkerson)
Debbie Fearn of Edwards County has been inducted into the Illinois 4-H Hall of Fame. Fearn was among 70 honored by the Illinois 4-H Foundation at the Illinois State Fair.
The annual Wayne County 4-H Foundation pork chop fundraising dinner is tonight at the Geff Ruritan building. Tickets are $8 for adults and $4 for youth ages 5 – 12. Money raised will benefit Wayne County 4-H programs and activities.
Fairfield Fall Fun Fest buttons are now on sale. This year's button depicts the start of the annual 5-K run sponsored by Fairfield National Bank. Buttons cost $2 and are available at many local businesses through the Fest.