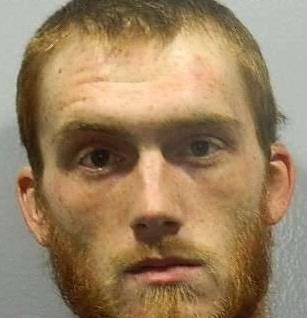 A West Salem man arrested last May on charges he battered a 4 ½ month-old family member has been sentenced to five years in prison. Christopher R. Cleveland, 22 was sentenced this morning in Edwards County Circuit Court in Albion. Christopher's sentencing comes after he entered an Alford Plea last month to the charges. In entering the Alford plea, Cleveland did not admit he committed the crime, but did admit that there was a strong probability that a jury would find him guilty. Cleveland was initially charged with aggravated battery – a Class-3 felony. The charge stated that Cleveland "knowingly caused bodily harm to a child in that he handled the child's body in a rough manner so as to cause the child to sustain broken ribs." Cleveland received the maximum sentence available to the judge for the offense – 5 years in prison. He remains in the White County jail at Carmi pending transfer to the Illinois Department of Corrections.  Illinois State Police detectives investigated the case.
A federal judge has sentenced former Wayne-White financial manager Bruce L. Johnson of Wayne City to 18 months in federal prison for embezzling hundreds of thousands of dollars from the cooperative and the First Christian Church in Wayne City. In addition to prison time, Johnson will have to serve another three years of parole once he gets out of jail and complete 250 hours of community service. He was also ordered to pay restitution to the cooperative and the church.
Peoples National Bank officially opens its new branch at 1001 West Delaware in Fairfield next Monday. An official ribbon cutting will be held at 10:30 a.m. Friday, Sept. 4 with a free lunch to follow. Peoples National Bank, with over $1 billion in assets, has 21 locations throughout Southern Illinois and the St. Louis Metro area.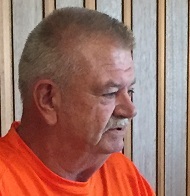 Fairfield businessman Max Weaver told Fairfield Rotarians Thursday about the history of his business – Big Boy BBQ. In 2003, Max bought his first smoker with the idea of cooking on holidays and weekends. The business has grown into a full-time cooking and catering business. Local resident, Josh Glisson has assisted Max since 2005.
Jason E. Burner, 34 of Fairfield has been jailed on charges he used Facebook to lure a 16-year-old girl into a sexual encounter. Burner faces charges of aggravated criminal sexual abuse, indecent solicitation of a child and grooming.
A Wayne City man accused of locking his girlfriend's three-year-old son in a chicken coop for punishment has been arrested on a charge of domestic battery. 37-year-old Dennis L. Galbraith was arrested following an investigation by Wayne County Sheriff's Police and the Illinois Department of Children and Family Services.
Fairfield National Bank will host a Shred Day this Saturday from 9 a.m. until noon. The community is invited to bring up to 50 pounds of paper materials to be recycled and safely shredded. In addition, e-cycling will also be offered for old computers, monitors, printers and other various electronics.