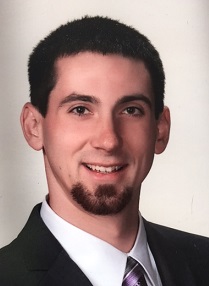 Eric St Ledger has announced his 2016 candidacy for Edwards County State's Attorney. St Ledger has practiced law in the area since graduating from law school at Southern Illinois University-Carbondale in 2011 and becoming licensed the same year. In the summers of 2009 and 2010, St Ledger completed externships at the Edwards County State's Attorney's office under current EC State's Attorney Mike Valentine, who is not seeking re-election to the State's Attorney position. He also volunteered at the Union County State's Attorney's office in Jonesboro, Illinois during his third year of law school. St Ledger is the younger son of Dr. Don & Kathy St Ledger of Albion. He is married to Tanea (Dean) St Ledger, daughter of Mike and Lesa Dean of Albion.
29-year-old Skyler Lee Kuykendall of Crossville died Monday morning in a two-vehicle crash south of Carmi. Kuykendall (pictured left) apparently ran a stop sign near the White County Coal Mine and collided with a vehicle driven by Kevin Stocke. Stocke was airlifted to an Evansville hospital for treatment of non-life threatening injuries. Kuykendall was taken to the hospital in McLeansboro where he died. He was a local ironworker and was on his way to work when he was killed. The White County Sheriff's Department investigated the accident.
24-year-old Isaiah D. Tapia of Albion has been jailed on charges of being in possession of marijuana, drug paraphernalia and a loaded .9 mm handgun. Tapia was arrested following a routine traffic stop on the Red Hill Road in rural Edwards County.
The Frontier Community College Bobcats Athletic Department and Wayne-White Electric are co-sponsoring a Night for Gerry Kinney on Monday, Sept. 28. There will be a cookout starting at 4:30 followed by a volleyball match between the Bobcats and Rend Lake College at 6:30. Gerry was badly injured in an accident on July 16. While he is home from the hospital, Gerry is now undergoing extensive physical therapy. Money raised will be given to Gerry's family to help meet their financial needs.
Frontier Community College is hosting a job fair on Wednesday, Sept. 23 in the Workforce Development Center in Fairfield. The event is free and open to the public. Many area employers will be on-site during the event which runs from 2 – 6 p.m.
A stray dog has killed ten of Jake Bryant's chickens in rural Wayne County. The birds were worth a reported $10 each. Mr. Bryant was able to catch the dog and tied him up for Humane Society workers.