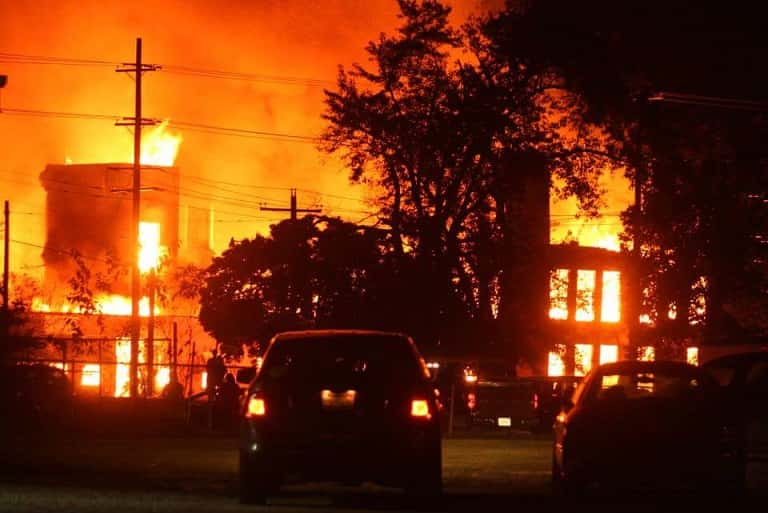 The old Brown Shoe factory in Salem went up in flames Wednesday night. Seven neighboring fire departments assisted in battling the blaze. Most recently, the structure housed Dalton Storage. Photo from the Southern Illinois Fire Incident Facebook Project
Former West Salem bank employee Rachel Knasinski has been sentenced to 24 months in federal prison after pleading guilty to embezzling funds from the bank. In addition to prison time, she has been ordered to pay $362,357 in restitution to the First State Bank of West Salem.
40-year-old Chad W. Street of Bellmont was arrested Wednesday on a charge of public indecency. Street is accused of exposing himself in the 2 Go's gas station on Walnut Street in Mt. Carmel.
Edwards County Sheriff's Police and officers from the Albion City Police Department conducted a drug sweep at the Edwards County K-12 in Albion. No contraband was found.
25-year-old Kristopher C. Patrick of Florida was arrested Wednesday night at the Budget Inn in Fairfield. Patrick is accused of punching 28-year-old Angel Cruz in the face during an argument. City Police said both men were intoxicated. Cruz was taken to Fairfield Memorial Hospital for treatment of his injuries.
41-year-old Steven R. Brown of Ohio was arrested by Fairfield City Police Wednesday afternoon on a no-bond felony warrant out of Michigan. Brown was wanted for failure to pay child support. He has been jailed pending extradition to Michigan.
FNB is hosting a tailgating event at the FCHS home football game this Friday when the Mules take on the Carmi Bulldogs. FNB employees will give away free food, drinks and t-shirts from 5:30 until game time.