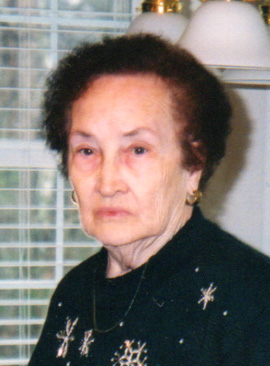 June Buttry, 91, of Carmi, Illinois, formerly of Herald, Illinois, died Sunday, October 11, 2015, at Wabash Christian Retirement Center in Carmi. June worked for a time at the Ainsbrook Manufacturing Company (the "factory") in Carmi, and she was a Certified Nurse Assistant and worked many years at the Carmi Township Hospital, and later as an in-home caregiver.
Survivors include daughter Diana (Bob) Russell of Carmi; brothers Rick (Karen) Bradley of Quaker City, Ohio, Bill (Kay) Bradley of Norris City, Illinois, Sam Bradley of Carmi; sisters Savannah (Kenneth) Catlin of West Virginia, Jackie Bywaters and Hope Lingle, both of Ohio; brother-in-law Jim (Mary) Buttry of Herald; grandchildren Craig, Mitch, Sherrie, Todd and Christopher; and numerous great grandchildren.
Visitation is 10:30 – 11:30 am, Thursday, October 15, 2015, at Cook Funeral Chapel in Carmi, immediately followed by graveside committal at Herald Cemetery in Herald, Illinois.