With a 5-3 vote, the Fairfield City Council Tuesday night approved a $40,000 loan from the city's revolving loan fund to Dr. Walter Dawkins. Dr. Dawkins is in the process of re-establishing his dental practice in Fairfield at the former offices of Dr. E. G. Dickey in downtown Fairfield. The loan will be used to make the building handicap accessible.
With one no vote, the Fairfield City Council approved spending $13,000 from TIF district funds to repay the Fairfield Industrial Trust for their purchase of the former Dr. E.G. Dickey offices. The Trust acquired the building to help Dr. Walter Dawkins re-establish his dental practice.
Fairfield City Police arrested two local residents Tuesday night following a traffic stop on N.E. Third Street. The driver, 39-year-old Barnabus McGill was arrested for being in possession of a controlled substance, drug paraphernalia and having no valid driver's license. His passenger, 39-year-old Ronald W. Chapman was wanted on a Clay County warrant. Both were lodged in the Wayne County jail.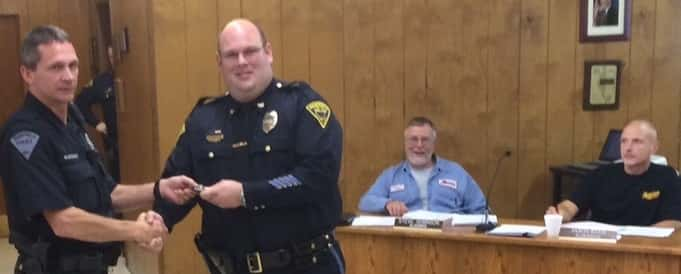 Fairfield City Patrolman Warren Musgrave has been promoted to the rank of Sergeant. Chief Keith Colclasure sought the promotion because Cameron Simpson was the only Sergeant on the force. Pictured is Chief Keith Colclasure (right) presenting Warren Musgrave with his new Sergeant's Stripes during Tuesday night's Fairfield City Council meeting.
On a vote of 6 – 2, the Fairfield City Council agreed they would not move forward with plans to establish an ordinance that would allow the operation of golf carts on city streets.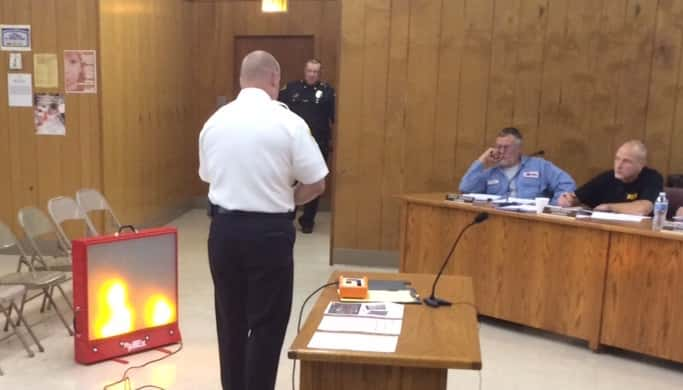 The Fairfield City Council Tuesday night spent $9,895 for the purchase of a fire extinguisher training device. The device uses a video screen to project the likeness of a fire. A special five pound extinguisher uses an electronic signal to simulate the discharge of a dry powder extinguisher. The system is clean and requires no chemical recharging.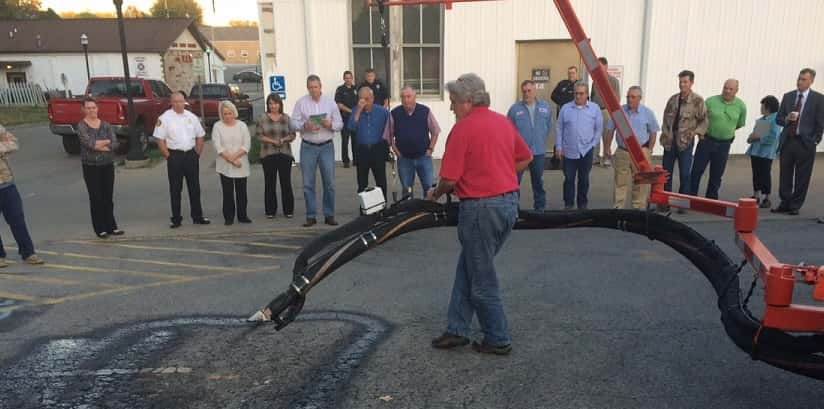 The City of Fairfield is considering the purchase of a Dura Patch machine that can be used to repair potholes around the city. At a cost of $50,200, the device uses a combination of an emulsion, diesel fuel and rock to fill in potholes. A demonstration of the device was presented at the beginning of Tuesday night's council meeting.