RADIOACTIVE CONTAINER MISSING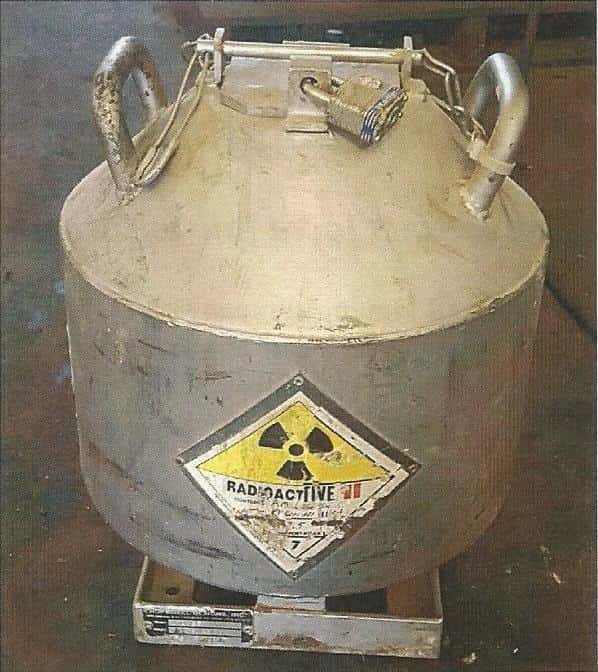 Officials with the Illinois Emergency Management Agency (IEMA) are asking the public for help in locating a missing radioactive oil well logging source holder. The device, owned by Wayne County Well Surveys, Inc. of Fairfield, Ill. went missing last Friday. The locked steel container, which houses the radioactive well logging source holder, was last known to be in a company vehicle. The source holder is part of a larger tool used to assess geological formations in oil and gas, groundwater, mineral and geothermal exploration. The steel container is silver in color, 12 inches high and 14 inches in diameter. It weighs 75 pounds. The container is labeled on two sides as "DOT Radioactive Yellow II" with the radiation symbol and manufactures' name "Hopewell Designs, Inc." on its base. The inner source holder is about 4 inches long and two inches wide and labeled "Danger Radioactive Material, Do Not Handle, Notify Civil Authorities". IEMA radiological response teams and Wayne County Well Surveys workers are searching the company's job sites and transportation routes in an effort to locate the container. The search is focused in Clay, Cumberland, Edwards, Effingham, Franklin, Hamilton, Jasper, Jefferson, Macon, Marion, Moultrie, Richland, Shelby, Wabash, Wayne and White Counties in Illinois and Gibson and Pike Counties in Indiana. The missing source, which is housed within two containers, is listed as an International Atomic Energy Agency (IAEA) category 3 Source. If unshielded and not safely managed or securely protected, exposure to the source could cause permanent injury to a person who handled it or who was otherwise in contact with it. Anyone finding the device should contact their nearest law enforcement agency.
It was a deadly weekend across Southern Illinois highways. 25-year-old Tyler Bozarth of Fairfield died Saturday morning when the pickup truck he was driving missed a curve in Walnut Hill and struck a road sign. Police said Bozarth was ejected from the wreckage and was pronounced dead at the scene. 64-year-old Lesa M. Grover of Carrier Mills died Saturday evening when the car she was a passenger in ran off of Ill. Rt. 13 near Harco Road and overturned. The driver and one other passenger received major injuries in the crash.
Three Southern Illinois residents were seriously injured Sunday when the van they were in ran off I-64 in rural Wayne County, overturned and caught fire. The injured were Robert L. Meek, 47, Jeremy D. Keller, 43 and Tonya M. Keller, 36 – all of Pana. Robert Meek and Jeremy Keller were taken to Good Samaritan Hospital. Tonya Keller was airlifted from the scene to an Evansville hospital.
The state's budget impasse has led to some vendors stopping services provided to state facilities. One hardware store in Springfield has closed the state's account until there is a budget. The store provided propane tanks for floor maintenance machines and forklifts. The state is far behind in paying its utility bills as well.
Fairfield Retail Merchants will host their annual Witches Night Out Tuesday night from 5 – 8. Contests and costume judging will begin at 7:30 at 114 E. Main Street – the old Harris building.
The public is invited to a Star Party Tuesday night on the campus of Frontier Community College. Science instructor Ken Harris will have his telescopes set up from 7 – 8:30 on the lawn between the Richard L. Mason Building and the U of I Extension office. Those attending are encouraged to bring their binoculars.