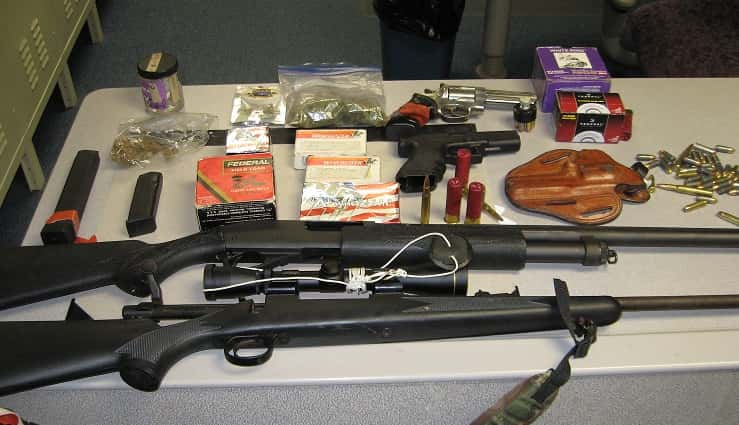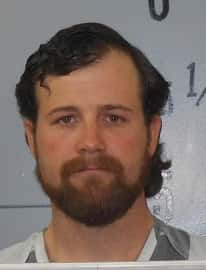 An Alaska man who stopped along Interstate-64 in rural Wayne County, Ill. to urinate has been jailed on drug and gun charges. Randy C. Myers, 30 of Petersburg, Alaska was taken into custody shortly after midnight Wednesday morning on I-64 at the Ill. Rt. 242 exit. According to a Wayne County Sheriff's Department report, a deputy pulled in behind Myers' stopped Ford pickup truck and saw the suspect urinating. Gaining consent to search his truck, the deputy found four loaded handguns and four containers of suspected marijuana. Police said Myers had a Ruger handgun under the driver's seat, a Remington rifle behind the driver's seat, a Remington shotgun behind the driver's seat and a Glock handgun in bed of his truck. All of the weapons were loaded, police said. Police recovered three plastic bags and one glass container of suspected marijuana in the truck. The total weight was 34 grams, police said. Myers was booked at the Wayne County jail in Fairfield on preliminary charges of unlawful use of a deadly weapon and possession of more than 30 but less than 500 grams of marijuana.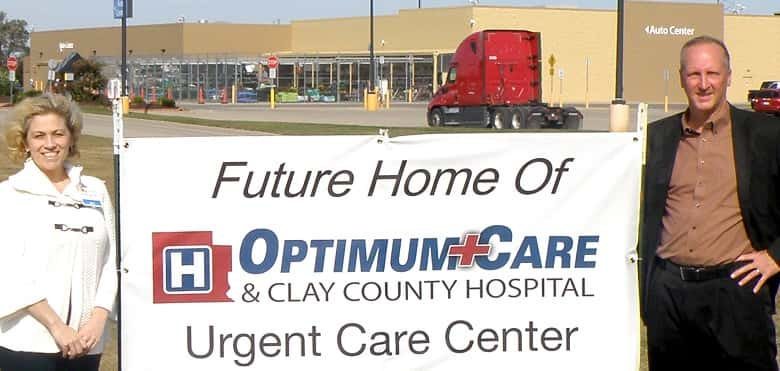 Integritas Emergency Physician Services is working with Clay County Hospital to provide an urgent care center in Flora. The intention is for the center to be located on the property adjacent to the Flora Wal-Mart®. The planned eight-thousand-square-foot facility will operate with extended hours and will offer treatment, labs and radiology. Clay County Hospital will provide the lab and X-ray services at the center, along with therapy services in the new Clay County Hospital Physical Therapy center, which will include state-of-the-art Physical Therapy, Speech Therapy, and Occupational Therapy. Amanda Basso, President and CEO of Clay County Hospital and Dr. Doolittle, CEO of Integritas Emergency Physician Services pictured at the new location for the Optimum Care & Clay County Hospital urgent care center in Flora, IL.
Fairfield Fire Chief Darin Hopper is asking local residents to refrain from burning leaves because of the extremely dry conditions. With breezy conditions in the afternoon, even the smallest fire can spread out of control quickly. Area fire departments have been busy this week responding to grass and field fires.
An Evansville man has been found guilty of being in possession of a stolen vehicle in White County. Following a two-day trial in White County Circuit Court at Carmi, 41-year-old Martin A. Ritch was found guilty. Sentencing in the case has been set for December 21. Carmi City Police arrested Ritch at the Carmi Wal-Mart.
31-year-old Randy C. Myers of Petersburg, Arkansas has been jailed on gun and drug charges. A Wayne County Sheriff's deputy spotted Myers at the Ill. Rt. 242 exit on Interstate 64. Gaining consent to search his vehicle, police found four loaded guns and four containers of suspected marijuana.
Two Carmi residents have been jailed on charges they were in possession of meth and hypodermic syringes. Dawn D. Tracy, 42 and David Bertram, 36 face charges of being in possession of meth and syringes. Carmi City Police made the arrest.
The Illinois State Museum system is in danger of losing its national accreditation after Governor Bruce Rauner closed a number of museums due to the state budget impasse. The American Alliance of Museum's Accreditation Commission has voted 7 – 0 to place Illinois' museum system on probation.
The Fairfield American Legion will sponsor a Halloween Costume Contest on Saturday, Oct. 31 at the American Legion. Sponsored by the Legion, Sons of the Legion and Legion Auxiliary, contestants will compete for $600 in prize money.