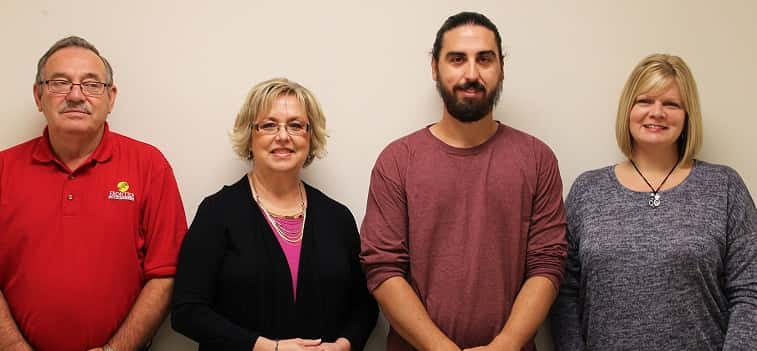 Frontier Community College awarded the Earl R. Pottorff Memorial Scholarship to Noah Frymire of Albion. Frymire is currently enrolled in FCC's Electrical Distribution Systems program and will complete the certificate in May 2016. He is a 2009 graduate of Harrisburg High School and the son of Lonnie and Terri Keener of Albion. The Earl Pottorff Memorial Scholarship was established in December 2012 by Lorraine Pottorff in memory of her late husband. It is the first donation presented to the FCC Foundation specifically for a Career and Technical program that will last in perpetuity. The Earl R. Pottorff Memorial Scholarship is presented each year in the amount of $1,000 to a student enrolled in the Electrical Distribution Systems program. Pictured left to right are: Ed Patton, Electrical Distribution Systems Faculty; Jan Wiles, Assistant Dean of Student Services; recipient Noah Frymire; and Lori Noe Financial Aid Coordinator
Plans have been set for the annual Fairfield Veterans Day Parade. The event will be on Saturday, November 7 at 3 p.m. This is a different time than in the past. To submit an entry for the parade, contact Clifford Reever at 516-3111.
32-year-old Daniel K. Call of Columbus City, Iowa has been sentenced to four years in prison on convictions of aggravated unlawful restraint, domestic battery and aggravated battery. Call was sentenced Wednesday in White County Circuit Court in Carmi.
Phillip S. Burton, 28 of Carmi has been sentenced to three years in prison after pleading guilty in White County Circuit Court to a charge of being possession of methamphetamine. The state has recommended that Burton serve his time in the state prison's boot camp.
Bertha Reed, 28 of Mounds has drawn a four year prison sentence after pleading guilty to shoplifting at the Carmi Super Wal-Mart. She was also ordered to pay $916 restitution to Wal-Mart.
Area residents are invited to join the Wayne County Humane Society for their Black Friday promotion that will actually run through the entire month of November. The event will feature $5 off of any pet adoption. Dogs will be $40 – Cats $20.
Rt. 14 west of McLeansboro will be closed today for railroad crossing repairs. The work should be completed by 6 p.m. Friday.