A Carmi truck driver was injured this morning when the semi he was driving ran off of a rural White County road and overturned. Joshua K. Cronin, 30 of Carmi was taken to a hospital in Evansville following the 6:57 a.m. accident. According to Illinois State Police, Cronin was driving a 2004 Sterling truck tractor loaded with soybeans when he missed a curve on White County Road 1380 N at 1450 E. The truck overturned, spilling a portion of its load of beans. At this time, charges are pending as Illinois State Police investigate the accident.
Forecast severe weather failed to materialize across Southern Illinois on Wednesday. Rainfall in Fairfield totaled only .07. Another chance of rain is in the forecast for early next week.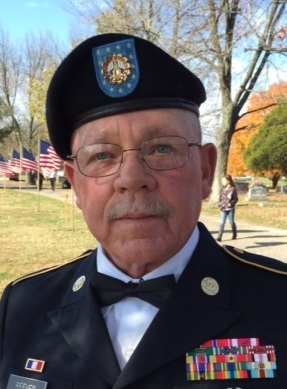 The weather cooperated and a nice crowd attended the annual Fairfield Veterans Day observance at the Veterans Section of Maple Hill Cemetery in Fairfield Wednesday. The featured speaker this year was Command Sergeant Major (Retired) Larry E. Reever. (pictured left)  The Master of Ceremonies was Elmer McDuffee, Quartermaster of the Fairfield VFW Post 4535. The opening and closing prayer was provided by Carol Dozier, Chaplain of the local VFW Post. VFW Commander Jim Bean and American Legion Post 176 Commander Bert Engelkes laid a wreath at the monument of the unknown service person.
Fairfield Memorial Hospital's Mammography machine is being upgraded to the latest technology enhancements with the purchase of a new Hologic Mammography Machine with 3-D capabilities. The device is expected to be in use by Dec. 16. There will be an interruption of service from November 22 until 12 noon on Dec. 16.
Hamilton Memorial Hospital's Senior Enrichment volunteers are hosting their annual "Antique Angel Tree" for senior citizens in need. Nominees should be 65 or older, live in White or Hamilton Counties and meet one or more of the following criteria: live on a limited income, have recently suffered the loss of a loved one, does not have family close for the holidays or has seemed sad lately. More information is available at the hospital in McLeansboro.
Chris Shaffer of Carmi and Mike Miles of Boonville, IN won the second annual Josh Gray Memorial Scholarship Cornhole Tournament in Grayville recently. Money raised will be awarded to local high school students. A Grayville native, Josh Gray died in a traffic accident in 2013.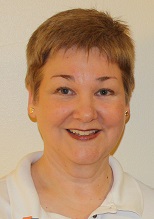 Each month, Fairfield Memorial Hospital honors an employee who has exemplified outstanding patient care and customer service. In October, Carla Dunahay, PTA, who has been with Fairfield Memorial Hospital for 17 years, was named Employee of the Month.