30-year-old Joshua K. Cronin of Carmi was injured Thursday when the semi he was driving ran off a rural White County road near Carmi and overturned, spilling a load of soybeans. Cronin was taken to an Evansville hospital.
Illinois Lottery ticket sales dropped to the lowest point this year in October, the same month that lottery officials announced they were delaying payouts over $600 because of the state budget impasse. Sales for most tickets, including scratch-offs, dropped $21 million.
The Fairfield Community High School varsity scholastic team captured second place in the Southern Illinois Academic Conference Meet in Centralia Thursday night. The Mules went 3 and 1 on the evening.
The Illinois Critical Access Hospital Network recently honored Luke McDaniel, Quality Analyst at Fairfield Memorial Hospital. Luke was presented with the ICAHN Young Leader Award. Luke launched a project that reduced readmissions to the hospital.
Today is the final day to buy a ticket for a chance to win an FCHS Mulebackers duffle bag. Tickets are $1 each or 6 for $5. The drawing takes place this evening during the Meet the Mules event.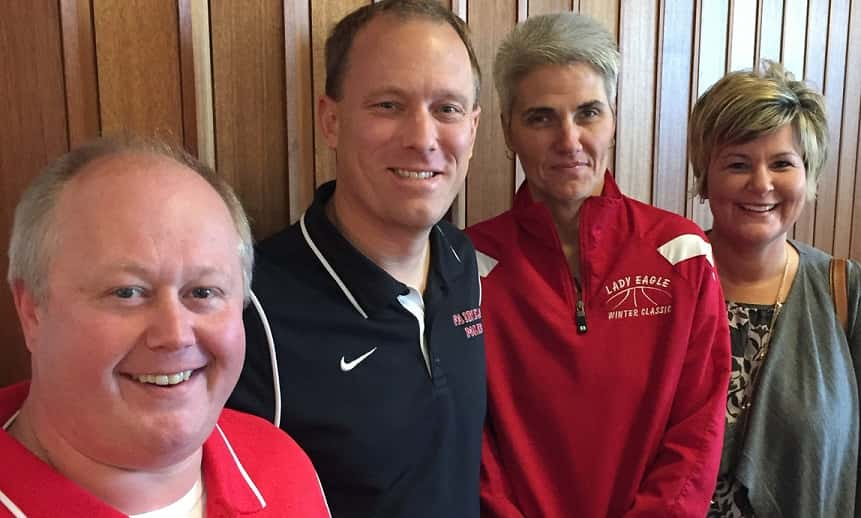 The winter sports programs at Fairfield Community High School were discussed by three FCHS coaches at the Fairfield Rotary Club meeting Thursday. Tonya Conrad, in her 9th season, is head coach for the Lady Mules. Scott McElravy is the Mules head basketball coach. FCHS wrestling coach Don Lyons is in his 5th year coaching. Pictured left to right are Don Lyons, Scott McElravy, Tonya Conrad and FCHS Supt. Jill Fulkerson.