A Flash Flood Watch has been issued for all of Southern Illinois from late tonight through Wednesday morning. A large scale storm system will bring heavy rainfall to areas along and west of the Wabash River. Some areas of Southern Illinois could see up to five inches of rain before the system exits the region on Wednesday.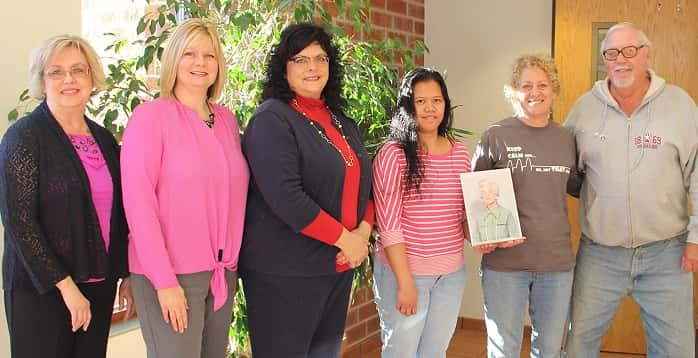 The semi-annual Clemence Elizabeth Cox Scholarship has been awarded to Barbara Fell and Leslie Wilson of Fairfield for the 2015 spring semester. The $500 scholarships are awarded during the fall and spring to second-level nursing students at Frontier Community College. Both recipients will complete the Associate Degree in Nursing in May 2016. Pictured above left to right are: ; Assistant Dean of Student Services Jan Wiles; Coordinator of Financial Aid Lori Noe; Nursing Faculty and Dept. Head Theresa Marcotte, MSN, RN; scholarship recipients Leslie Wilson and Barbara Fell; and Jerry Cox.
Gasoline prices in Fairfield have finally dropped to below $2 a gallon. Early this morning, the price of unleaded self-serve gas had dropped to $1.96 a gallon. On the west side of the state, gas prices are even lower. In the Washington County community of Okawville, prices have dipped to $1.79 per gallon.
Fairfield native Warren Newby and his wife Kate are safe in their downtown Paris home following last Friday's terrorist attacks. Warren is a geologist with a French oil company. Kate is a Registered Nurse. The couple is expected to return home to Fairfield later this week for the Thanksgiving Holiday.
The Cisne FFA recently received a $600 donation from Smith Field's Hog Production Division. Accepting the donation from Smith Field Management Systems Auditor Rob Neikirk were Cisne FFA President Carter Walker and Vice President, Janay Barnfield.
Illinois' new medical marijuana shops sold nearly $211,000 worth of cannabis in their first week of operation. So far, less than a quarter of the eligible patients have made a purchase. Locally, a medical marijuana dispensary is located in Marion. The nearest medical marijuana cultivation facility is located in Albion.