22-year-old Lucas Daniel Johnson of McLeansboro died Saturday morning when the pickup truck he was driving ran off Opdyke Lane in rural Jefferson County and struck a tree. A passenger in his truck, 21-year-old Kalie Montgomery of Carterville received major injuries and was airlifted to a hospital in St. Louis. Johnson worked as a roof bolter at the coal mine near McLeansboro.
The Little Wabash at Carmi is forecast to crest later today at 35.7 feet. The Big Wabash at Mount Carmel was at 27.95 feet this morning. The river is forecast to crest at 29.2 feet by Wednesday.
Governor Bruce Rauner visited Southern Illinois over the weekend to survey communities impacted by flooding. Rauner said there was little he could offer but encouragement. Rauner said the state has minimal funds to help with damage due to state deficits and the budget impasse.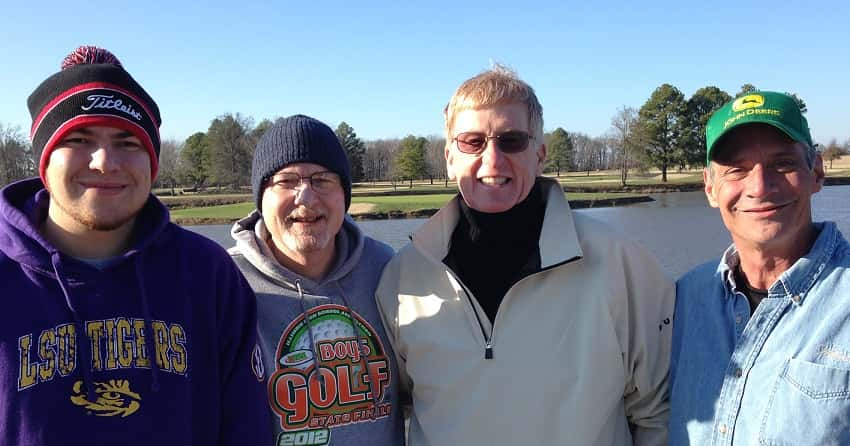 Nineteen players enjoyed a pot luck lunch and played the back nine in the Rick Book Memorial Scramble at the Wayne County Golf Course on New Year's Day. Blake Davis, Richard Davis, Bruce Reeves, and Jon Simpson combined for a five under par to win the championship by one stroke over the second place team of Ashley Bunting, Gary Gain, Rafe Gonzalez, and Chris Medler. Pictured are the winning team members from left to right: Blake Davis, Richard Davis, Bruce Reeves, Jon Simpson.
36-year-old Danny L. "Boone" Stephens of Carmi was arrested Friday on charges he was in possession of meth. He was also wanted on a White County warrant charging him with failure to appear in court on a petition to revoke his probation on an aggravated battery conviction.
Weather statistics from the National Weather Service Observatory at the studios of WFIW have been compiled. Fairfield received 52.9 inches of rain last year, compared to 45.52 in 2014. Total snowfall for 2015 was 10.5 inches, compared to 15.9 inches in 2014.
The first baby born at Good Samaritan Hospital in Mount Vernon is from McLeansboro. Elijah James Wellen, the son of Ashley and Nicholas Wellen of McLeansboro was born at 9:10 New Year's morning.