Two Mount Carmel teens have been jailed in connection with an early Sunday morning robbery of the Casey's General Store in Grayville. One of the suspects was said to have been armed with a compound hunting bow. The two were taken into custody following a traffic stop in Mount Carmel. Less than $200 was taken. No one was injured. Both suspects are being held in the Franklin County Detention Center in Benton pending a court appearance Tuesday in Edwards County Circuit Court at Albion.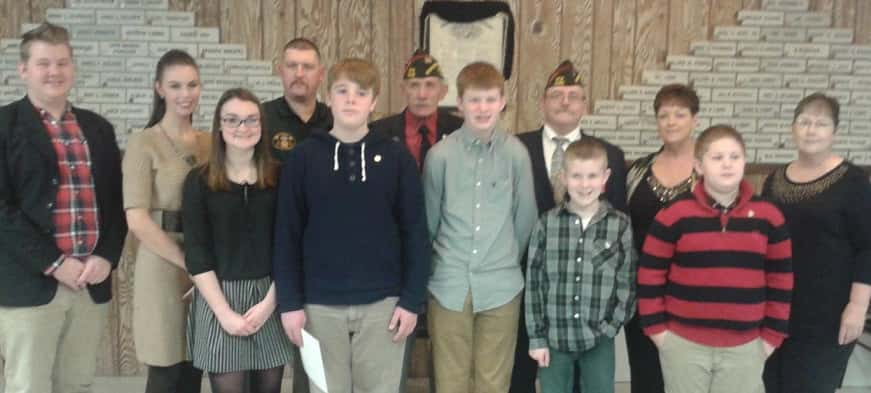 Wayne County was well represented at the District 13 Voice of Democracy Contest at the VFW in Olney Saturday. High School participants included Emily Legg and Quinn Kidd from Wayne City and Collin McDuffee from Fairfield. Emily Legg placed third. In the Patriot Pen Contest, Junior High participants included Remington Wheeler and Jason Wright from Center Street School, Alieya Waldrop, Hunter Biggs and Jordan Demaret from Jasper School. Jason Wright took third place.
Trenton Jones, the 6th grade son of Terry and Joni Jones has won the Center Street Geography Bee. Aliya Turner, the 8th grade daughter of Chris and Jessica Turner took second place.
Camden Robbins, son of Curt and Stacy Robbins has won the Geff Grade School Geography Bee. Brenna Freeman, daughter of Jasen and Tamela Freeman took second.
Wayne County Golf Course volunteers will launch their first porkburger sale of the season this Saturday on Main Street in front of the Wayne County courthouse. Proceeds will help prepare the course to open for the new season.