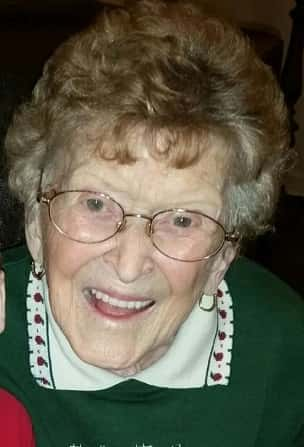 91-year-old Bonnie Lucille Austin of Owensville, IN and formerly of Wayne City, died on Friday, February 19, 2016 at her son's home in Owensville, IN.  She had worked at the Shell Mart in Wayne City.
She is survived by her daughters Patty (Jerry) Sharp of Mt. Vernon, IL and Sandra (Rick) Irvine of Grayville; a son Denny (Laurel) Austin of Owensville, IN; granddaughter Rachel (Jerod) Johnson of Franklin, TN and grandson Ryan (Stacy) Austin of Wayne City; four great-granddaughters, three great-grandsons and one great-great-granddaughter; sisters Cathy Hunter and Dorothy Talbert of Wayne City and many nieces and nephews.
In honoring her request, a graveside service will be held at Hopewell Cemetery in Wayne County at 1:00 p.m. Monday, February 22nd.  All friends and family are welcome to attend.  Those wishing to make a memorial contribution are asked to select a charity of your choice.  Holder Funeral Home in Owensville, IN is entrusted with the arrangements.