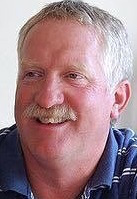 Edward Smith, age 62, formerly of McLeansboro died on March 2nd, 2016.
He is survived by his wife Sherri of New Boston, IL; 3 Sons: Dusty Smith of Chicago, IL; Brad (wife Shaya) Smith of Rock Island, IL and Cory (wife Lisa) Smith of Milan, IL; 1 brother Steve (wife Rebecca) Smith of Mt. Vernon, IL and 1 sister Charlene (husband Keith) Carter of Evansville, IN; and five Grandchildren also survive.
Graveside Memorial services for Edward Smith will be held at 1:00 pm on Saturday, April 30th, 2016 at the Union Cemetery near Dahlgren.
Those attending the service are asked to meet at the cemetery.
The Gholson Funeral Home of McLeansboro is in charge of the arrangements.