35-year-old Lawrence Ewing of Fairfield was badly injured Monday morning in a traffic crash in rural Clay County.  Ewing was hurt when his car collided with a farm implement that pulled out in front of him on the Big Four Road south of Clay City.  The driver of the farm implement, William Keith Harvel of Clay City was cited for failure to yield and running a stop sign.  Ewing was airlifted to Deaconess Hospital in Evansville where he is being treated for broken ribs and a head injury.
Two local men have been arrested in connection with the discovery of a meth lab at an area house.  Barnabus McGill, 39 of Fairfield and Tre Sterling, 22 of Geff face multiple charges related to the unlawful manufacture of meth.  Police say they recovered one working meth lab and as many as 20 inactive labs.
The Albion City Fire Department held a reorganizational meeting recently, electing new officers.  The department elected Danny Iverson as the new chief.  He replaces Brad Nale who has served several years as chief.
The Albion City Council has approved a fifty year lease of the old Albion fire station to the Edwards County Ambulance Service.  The structure is currently being remodeled.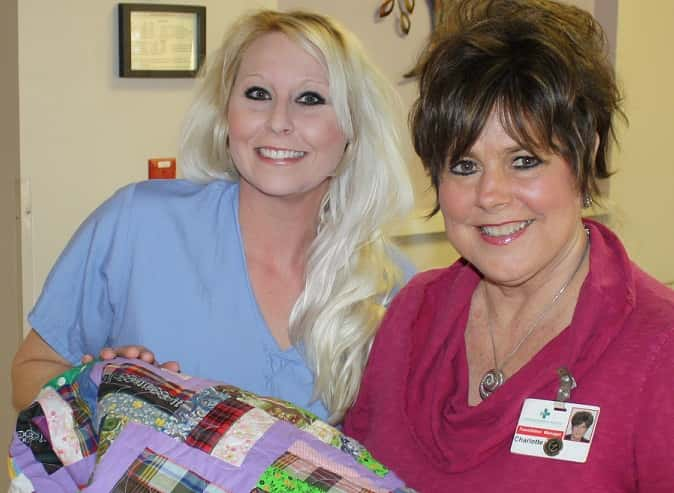 Sara Shelton was the winner of the homemade quilt through a special Raffle put together by the Fairfield Memorial Hospital Auxiliary. Funds from the raffle benefited the FMH Auxiliary to provide donations for various needs and equipment for FMH. Pictured is Sara Shelton receiving the beautiful Auxiliary Quilt from FMH Volunteer Coordinator, Charlotte St.Ledger. The FMH quilters finish on average 3-6 quilts each year, making about $1,000 for the Hospital Auxiliary. The volunteers meet each Thursday from about 8 a.m. – 2 p.m. in the quilting room in the white building directly behind the Hospital. Pictured above are Sara Shelton (left) and Charlotte St. Ledger (right).
32-year-old Christopher Hannah of Fairfield has been sentenced to five years in prison after pleading guilty in Wayne County Circuit Court to a charge of possession of less than five grams of meth.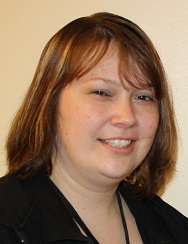 Melissa DeSanti has been named the Employee of the Month at Fairfield Memorial Hospital for the month of April.  Melissa is a coding specialist working in health information.