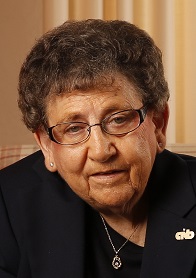 Marilyn Wolfe, 88, passed away at 1:40 a.m. at her home in Albion on Monday, June 6, 2016.   She graduated from Albion Community High School in 1943, attended Lockyear Business College in Evansville, Ind., and then went back to the family farm.
In August of 1944, she began working at Citizens National Bank of Albion.   Marilyn was appointed to the board of directors of citizens National Bank in 1970, was named president in April of 1982 and chairman of the board in 1997. She retired from her daily position at the bank in 1999, after 55 years of employment.  When she retired her board seat in 2016, Marilyn had dedicated 72 years of her life to the Citizens National Bank of Albion.
Marilyn also served on many local organizations board of directors. Those include The Edwards County Council on Aging, Southeastern Illinois Community Development Corporation, Albion Development, Albion Homes, Albion Medical, First Christian Church of Albion, and had served as a trustee on the Illinois Eastern Community College Board for over 20 years.
Survivors include her sister Nadine Wolfe, a nephew Richard (Kelly) Wolfe and great niece and nephew Allison and Drew.
Funeral services for Marilyn Wolfe will be 10 a.m. Monday, June 13 at the First Christian Church in Albion with burial in Graceland Cemetery.
Visitation will be 5 – 8 Sunday evening, June 12 at the Nale's Funeral Home in Albion.
Memorials can be made to the Edwards County Senior Center and will be accepted at the First Christian Church in Albion or Nale's Funeral Home in Albion which is in charge of all the arrangements.