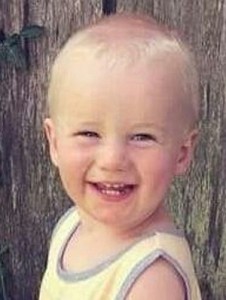 Berklee Ryan James Pickens, the19-month-old son of Lee and Shaina (Borton) Pickens of Flora died on Saturday, August 6, 2016.
Survivors include his parents: Lee and Shaina Pickens of Flora; sisters: Alyson and Aliyah at home; paternal grandparents: Nick and Marsha Pickens of Sailor Springs; maternal grandmother: Lisa Davis of Clay City; paternal great-grandparents: James Pickens, Don Hamilton, and Gerald Jones (Nancy Coughlin); paternal uncle and aunts: Bryan Pickens (Sarah), Stephanie Pickens (Jake Frank), Cora Pickens (Nate Flexter); maternal aunts and uncles: Shannon Borton, Brianna Burgess, Taylor Davis, Tonya Rudolph, Abbey Borelli; paternal great-aunts and great-uncles: Janet Jones, Greg Jones, Randy Pickens (Barb), Sterling Pickens (Julie); maternal great-aunts and great-uncles: Cindy Eskew (Albert), Chris Lancaster, Tony Morkin, Junior Eskew; and many cousins on both sides of the family.
Funeral services for Berklee Pickens will be 10 a.m. Thursday, August 11, 2016, at Frank & Bright Funeral Home, Flora, with burial in Elmwood Cemetery at Flora.
Visitation will be Wednesday from 5-7 p.m. at Frank & Bright Funeral Home.  Memorial donations may be given to the family to assist with expenses and will be accepted at the Frank & Bright Funeral Home in Flora.