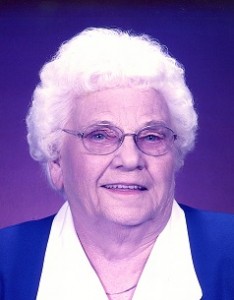 Wanda Lee Forth, age 94, a resident of Wayne City, IL died at 12:46 pm on Wednesday, August 10th, 2016 at her home. She had worked as a Custodian for the Wayne City school system, and she was a member of the Wayne City Baptist Church.
She is survived by a daughter Barbara Ile of Mt. Vernon, IL; 4 grandchildren, and several great grandchildren.
Funeral services for Wanda Lee Forth will be held at 10:30 am on Saturday, August 13th, 2016 at the Wayne City Baptist Church with burial at Baltimore Cemetery near Wayne City.
Visitation will be from 9:00 am until the time of service on Saturday at the Wayne City Baptist Church in Wayne City.
The Richardson Funeral Home of Wayne City is in charge of the arrangements.