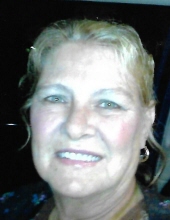 Betty Ann Willmore, 69, of Opdyke died at 11:43 A.M. Tuesday, December 20 at SSM Health Good Samaritan Hospital in Mount Vernon.
Survivors include her husband, Dale Willmore of Opdyke, Illinois; 2 sons, Walter "Bubba" Eckerle III and wife, Pam of Loranger, Louisiana and Scott Schauf of Fairfield, Illinois; 6 daughters, Tammy Ponthieux and husband Daimon of Kenner, Louisiana, Sandra Bruns and husband, Chris of Winter Haven, Florida, Saundra Ping and special friend, Robert of Mount Vernon, Illinois, Tara Mueth and husband, Matt of New Athens, Illinois, Amber Paddock of McLeansboro, Illinois, and Miranda Willmore and fiancé, Robert Cox of Marion, Illinois; 28 grandchildren; 13 great- grandchildren; brother, Raymond Marcel of Louisiana; 5 sisters, Carol Scardina of Louisiana, Bonnie Untereiner of Louisiana, Violet Whittle of Louisiana, Debra Miller and her husband, John of Louisiana, and Karen Marcel of Louisiana; and several nieces and nephews.
A Private Family Service  for Betty Ann Willmore will be held at Lake Lawn Park Cemetery in New Orleans, Louisiana at a later date where interment will follow.
Visitation will be held Friday, December 23, 2016 from 5:00 P.M. to 8:00 P.M. at Hughey Funeral Home in Mount Vernon, Illinois.