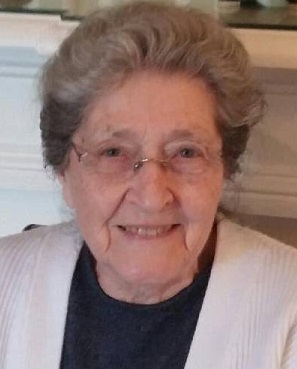 Mary Ruth Loss, 87, of Mount Vernon, Illinois passed away at 3:12 A.M. Wednesday, December 28, 2016 at SSM Health DePaul Hospital in St. Louis, Missouri. She was born Tuesday, October 8, 1929 in Saint Charles, Illinois to parents, John Alan and Margaret "Maggie" Melissa (Austin) McCormick. She married Gerald William Loss in December of 1949. They were married for nearly 30 wonderful years before he preceded her in death on April 24, 1979.
A Funeral Service will be held on Saturday, December 31, 2016 at 1:30 P.M. at Hughey Funeral Home in Mount Vernon, Illinois. Interment will follow at Thomason Cemetery in Wayne City, Illinois.
A Visitation will be held on Saturday, December 31, 2016 from 10:30 A.M. to 1:30 P.M. at Hughey Funeral Home in Mount Vernon, Illinois.
Mary is survived by her children, Gary Alan Loss and his wife, Kathleen of Mount Vernon, Illinois and Linda Darlene Stasko of Bonnie, Illinois; grandchildren, Julie Stasko and her husband, Matt Rankin of Warrenville, Illinois, Elliott Stasko and Casey Drennan of Mount Vernon, Illinois, Tim Loss and his wife, Heather of Woodlawn, Illinois, and Michael Loss and his wife, Victoria of Fayetteville, Tennessee; great-grandchildren, Dustin, Sam, Andrew, Reyse, Payton, Gracie, and Ian; and sister-in-laws, Audrey McCormick, Wanda McCormick, Jean McCormick, and Dora McCormick. Mary is also survived by many nieces, nephews, other relatives, and friends.
Mary was preceded in death by her parents; husband; son, Terry Darwin Loss; brothers, Loman McCormick, Walter McCormick, Paul McCormick, Ebbie McCormick, and Bob McCormick; sisters, Iva Rader and Mildred Ramage; and sister-in-law, Lovel McCormick.
Mary was a Godly woman who stayed true to her Christian faith. She obtained an Interior Design degree from Rend Lake College. Mary worked for several years at Florsheim Shoe Factory in Mount Vernon, Illinois. She later worked for seventeen years at Downers Grove South High School. In her spare time, she enjoyed working on upholstery and shopping for antiques. Mary's greatest joy was spending time with her family. She was dearly loved and will be missed by all who knew her.
For those who wish, memorials may be given to the Wounded Warrior Project and will be accepted at the funeral home or mailed to Hughey Funeral Home, P.O. Box 721, Mount Vernon, Illinois 62864.
Arrangements have been entrusted to the care of Hughey Funeral Home where you may call
(618) 242-3348 or visit www.hugheyfh.com for further information and to send condolences.