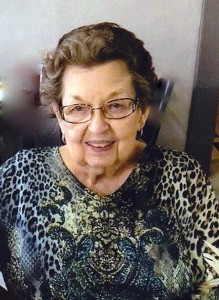 Mary Alice Weiss, age 83 of Enfield, passed away Thursday December 29, at Deaconess Hospital in Evansville.  Mary Alice was a homemaker and a devoted grandmother. She was a member of the Enfield Christian Church where she taught Sunday School for 34 years.
She is survived by her husband of 64 years, Lowell E. "Newt" Weiss, four children, David and Carol Weiss, Lisa Lumb and Jarrett King, Bruce and Kathy Weiss and Scot and Karen Weiss all of Enfield. Also surviving are nine grandchildren, Dustin and Denton Weiss, Farrah Taylor, Whitney Lumb Hobbs, Courtney Lumb McArthy, Jennifer Weiss Naas, Jordan Weiss and Caleb and Caite Weiss. Twelve great-grandchildren also survive.
Funeral services for Mary Alice Weiss will be held at 11 a.m. on Tuesday January 3, at the Enfield Christian Church with Matt Sutman officiating. Visitation will be from 4-7 p.m. on Monday January 2, at the Church. Memorial contributions may be made to the Enfield Food Pantry in care of the Enfield Christian Church. The Stendeback Family Funeral Home in Enfield is in charge of arrangements.