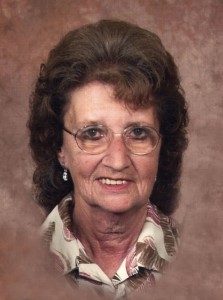 73 year-old Bertha Eckelberry Davis, of Flora, and formerly of Rinard, passed away Friday, December 30, at SSM Health Good Samaritan Hospital in Mount Vernon.
Bertha worked as a cook in restaurants including the Courthouse Café and Owl in Louisville and Ranch Steakhouse in Flora, and operated her own restaurants, one of which was The Barn. She was a member of Bloom Baptist Church, and was a former member of the Eagles and American Legion Auxiliary.
Bertha is survived by a son: Gene Eckelberry and wife Barb of Salem; a daughter: Annie Lewis and husband Herbie of Flora; 15 granchildren; 23 great-grandchildren; 1 great-great-grandchild; a sister: Rosedale Allcock and husband Richard of Paducah, Kentucky; a stepson: Michael Davis; and a number of nieces and nephews.
A funeral service for Bertha Davis will be 11 a.m. Wednesday, January 4, 2017, at Frank & Bright Funeral Home, Flora. Interment will follow in Bunker Cemetery, Rinard. Visitation will be from 5-8 p.m. Tuesday evening at the funeral home. Memorial donations are suggested to either CCARS (Clay County Animal Rescue and Shelter) or Fur A Good Paws, and these will be accepted at the funeral home.
The Frank & Bright Funeral Home is in charge of all of the arrangements. Visit www.frankandbright.com to share a condolence or memory with the family.