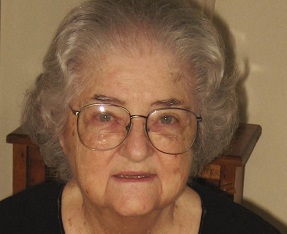 Margaret Lillian Farmer, 93, of Fairfield died at 5:10AM on Sunday, January 01, 2017 at St. Luke's Hospital in Chesterfield, MO. She was a teacher and homemaker and a member of First and North Side Baptist Churches where she taught for many years in Sunday School and Training Union and was a member of the Women's Missionary Union (WMU).
Survivors include a son Brian Farmer of Fairfield; a sister Janice Kinney of Lincoln, NE; and four sisters-in-law; Norma (Larry) Murphy, Gladys Young, and Shirley (Homer) Legg, all of Fairfield; and Lillie Zimmerman, of Glendive, MT.
A visitation  for family and friends will take place from 10 to 11AM Wednesday at the Johnson & Vaughn Funeral Home in Fairfield with graveside services to immediately follow at Bestow Cemetery in Geff, IL.
In lieu of flowers donations may be made to the Baptist Children's Home or to the Cystic Fibrosis Foundation.
The Johnson and Vaughn Funeral Home is in charge of the arrangements.