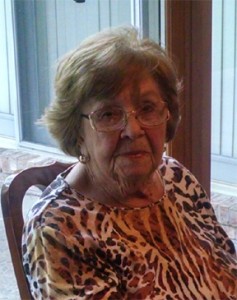 Doris E. Daubs, 88, of Carmi, died Friday, January 6, at Hamilton Memorial Hospital in McLeansboro. Doris attended First Christian Church in Carmi, and enjoyed going out with the "golden girls".  She was a member of the Daughters of the American Revolution and the Red Hat Society.  Doris was a hair dresser and had many interests including being an avid collector of antiques and Native American art.
Survivors include sons Terry (Judy) Daubs of Norris City, John (Barbara) Daubs of Brownstown, Illinois, Rex (Jeanetta) Daubs of Fairfield, daughters Connie (Bob) Brooks, Susan (David) Farny, all of Carmi; eight grandchildren; and nine great grandchildren also survive.
Visitation and funeral services for Doris E. Daubs will be Monday, January 9, at Cook Funeral Chapel in Carmi. Visitation is at 11 am and funeral is at 1 pm.  A private family burial will be at a later time in White County Memorial Gardens.
Memorials may be made to the Carmi Library or Pets At Risk and will be accepted at Cook Funeral Chapel in Carmi.