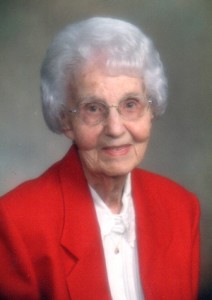 98 year-old Emma Catherine Orr of Grayville, died Friday, January 6, at VNA Charlier Hospice in Evansville, Indiana. She was a homemaker and active member of the First Christian Church in Grayville where she served on the Women's Council.  She was also a member of the Homebuilders Sunday School Class, Wednesday Evening Women's Club, and White County Home Extension.
Survivors include her children Nancy (Michael) Adams of Killeen, Texas; Mary (Jeff) Weber of Manteno; Philip Orr of Grayville; Robert (Pam) Orr of Albion; and Carol (Glenn) Jackson of Mt. Erie; 11 grandchildren; and 20 great grandchildren.
Funeral services for Emma Catherine Orr will be held 10 a.m. Tuesday, January 10th at the Cook Funeral Chapel in Grayville with burial in Oak Grove Cemetery. Visitation is from 5-7 p.m. Monday, January 9th, at the Cook Funeral Chapel.
Memorials may be made to the First Christian Church of Grayville or the Grayville Senior Citizens and will be accepted at Cook Funeral Chapel, which is in charge of all the arrangements.