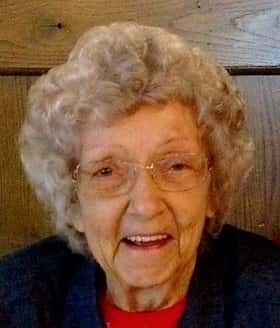 Norma Alice Maricle Book, age 85, of McKinney, Texas, formerly of Snyder, Texas, died on Saturday, January 7.  Norma graduated from Fairfield Community High School in 1948. On July 24, 1949, she married John B. Book.  They moved to Snyder, Texas in 1957.  Norma worked as the business manager at Wilson Motors for over fifteen years.  She was a member of ESA Service Sorority for thirty years.
Survivors include her children, Dee Ann Carroll and husband Charles of Lubbock, Texas, Jo Book of McKinney, Texas and Terry Book also of McKinney, Texas; five grandchildren; five great-grandchildren; many other loving relatives and friends.
Funeral services for Norma Alice Maricle Book will at 10AM Thursday January, 12 at Johnson and Vaughn Funeral Home with Burial in Maple Hill Cemetery.
Visitation will be from 5-7PM on Wednesday evening, January 11 at the Johnson & Vaughn Funeral Home in Fairfield.
Memorials may be made to: Visiting Nurse Association of Texas, 1600 Viceroy Drive, Suite 400, Dallas, Texas 75235 or at Johnson and Vaughn Funeral Home