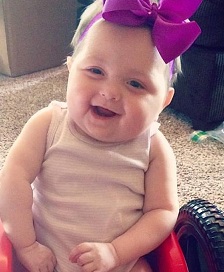 20-month-old Vaida Paige Scott, the daughter of Chris and Felicia Scott of Fairfield died Monday, January 9.  Vaida was born three months early on April 16, 2015 in Evansville. At six weeks old, she was diagnosed with Juvenile Leukemia. After six months in the NICU at St. Louis Children's Hospital, she was able to come home for the holidays. On March 8 of 2016, she received a bone marrow transplant from a donor through the BeTheMatch.Org organization. Eight days before her first birthday, she had her left leg amputated below the knee and her right leg amputated at mid-thigh. After her first birthday, she left the hospital again.
Vaida is survived by her parents- Chris and Felicia and big Sister Azlynn.  Maternal Grandparents- Angelique (Brent) Maguire of Fairfield and Jeff (Tiffany Hurley) Shelton of Fairfield.  Paternal Grandparents-Angela Gish of Fairfield and Gary Scott of Henderson KY.  Great-Grandparents- John W Shelton of Fairfield, Bob and Anita Onett of Fairfield, Cecil and Ann Gish of Fairfield, and Roger and Sharon Maguire of Fairfield.   Aunts-Brittany Scott of Fairfield, Haley Maguire of Mt Carmel IL, Arianna Shelton of Fairfield,  and Ashley Jacobs of Flora.  Uncles-Aaron (Kelly Iverson) Clark of Fairfield, Bryce Maguire of Fairfield, Keegan Riley of Fairfield, and Jacob Maguire of Fairfield. Special Cousins-Venice Scott, Noah and Benjamin Clark.  Several Great Aunts, Great Uncles, and Cousins also survive.
A celebration of life service for Vaida Paige Scott will be held on Saturday January 14th at 1pm at New Beginnings Church in Fairfield, where family members will be speaking.
Visiting hours will be from 10AM Saturday until the time of Celebration.  A Private family burial will be held at Maple Hill Cemetery.
Memorials may be made to the "Grow Vaida Grow" account at Fairfield Banking Company and will be accepted Johnson and Vaughn Funeral Home and New Beginnings Church.
The Johnson and Vaughn Funeral Home is in charge of all arrangements.