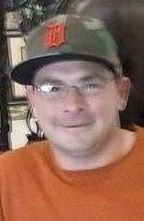 Joshua Benjamin Kuykendall, 37, formerly of Crossville, Illinois, died suddenly Sunday, March 5, 2017, in Florence, South Carolina. He worked construction as a union iron worker and machinist.  He enjoyed collecting ball caps, old antique coins and currency, antique jars, and playing video games.
Survivors include his parents, Rick and Peggy Kuykendall of Crossville; fiancée Staci Tate and daughter Lylarai Tate; brother Luke Kuykendall; grandparents Bill and Lois McClane, and Roy Kuykendall; aunts and uncles Mike (Linda) McClane, Becky McClane, Kathy Hart; niece and nephews Colton, Cooper, Ethan and Mary Jane.
Visitation and memorial services for Joshua Benjamin Kuykendall will be Saturday, March 11, 2017, at Cook Funeral Chapel in Crossville.  Visitation is at 1 pm with the memorial service at 2 pm.
The Cook Funeral Chapel in Crossville is in charge of all arrangements.