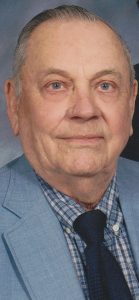 Loy Lee Brown, 85 of Carmi died on Tuesday, March 7, 2017 at Hamilton Memorial Hospital in McLeansboro.  He served in the U.S Air Force, first stationed in San Antonio, Texas. He worked for the Local Co-op for several years in Texas, then he went to work for Tide Chemical Company in McAllen Texas, at that time was transferred to Doc Rum, Ga when he became district manager over 4 states. He retired years later and moved backed to Carmi. He was a member of Emmanuel United Methodist Church.  He also authored two books.
Survivors include his wife of 58 years, Jackie and several cousins.
Funeral services for Loy Lee Brown will be held at 11 a.m. on Friday, March 10 at the Stendeback Family Funeral Home in Carmi with burial in Memorial Garden Cemetery. Graveside military honors will be provided by the Carmi American Legion and VFW.
Visitation will be 10 a.m. Friday, March 10 until the time of service at the Stendeback Family Funeral home in Carmi.