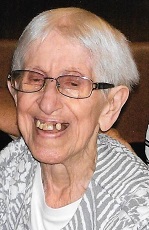 101-year-ol;d Wayne City resident, Nola Griffith died on Thursday, August 3, 2017 at Way-Fair Nursing Home. Nola was a housewife and a member of Union Star General Baptist Church at Wayne City, Illinois.
Nola is survived by one son James (Marjorie) Griffith of Chenoa, Illinois; four grandchildren Thomas M. (Kelly) Griffith of Syracuse, New York, David N. (Emily) Griffith of Raleigh, North Carolina, Shelia K. Weiss of Twinsburg, Ohio and Laura J. Griffith of Bedford, Ohio; one granddaughter in-law Jeni Griffith of Mendota, Illinois. Also surviving are eight great grandchildren.
A graveside service for Nola Griffith will be 4:00pm Tuesday, August 29th, 2017 at Thomason Cemetery at Wayne City.
In lieu of flowers, memorials may be given to Thomason Cemetery and will be accepted at the Hosselton Funeral Home in Cisne, which is in charge of all the arrangements.